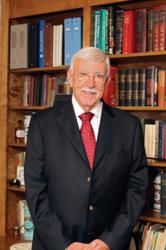 New York, NY (PRWEB) March 26, 2013
The originator of the world-famous Blood Type Diet and founder and director of the D'Adamo Institute for the Advancement of Natural Therapies, Dr. James L. D'Adamo, N.D., D.N.B., 81, passed away on March 21, 2013, peacefully and surrounded by his family and loved ones.
Dr. James L. D'Adamo was born on February 7, 1932 in New York, NY and was instrumental in establishing guidelines for licensing naturopathic practitioners in the U.S. He was the former director of the NH Naturopathic Board, vice-president of the Naturopathic Association of North America, and past president of the NH Board of Examiners. A naturopath for more than half a century, Dr. D'Adamo trained in the United States, Germany and Switzerland and practiced in New York, New Hampshire, Toronto, Montreal and Europe. Known as the founder and "grandfather" of naturopathy, he was instrumental in establishing guidelines for licensing naturopathic practitioners in the U.S. He frequently donated time to a number of charities around the world.
Having designed a wide array of natural therapies for more than 60,000 patients, Dr. D'Adamo committed his life-time work and research to further refine his Blood Type Diet research, and continued to share his latest discovery on his Blood Type Diet work and natural healing to the last days of his life.
Dr. D'Adamo first entered the world of natural medicine with his groundbreaking discovery of natural healing based on blood type. His first book One Man's Food …is Someone Else's Poison, detailed his unique, individualized treatment method based on a person's blood type and RH factors with diet and exercise. His second book, The D'Adamo Diet, outlined individualized needs for good health determined by blood types and sub-blood types - the relevance to diet, exercise and even personality traits. Dr. D'Adamo became the first naturopath to document sub-blood types and the integral role it plays in determining a person's health. His most recent book, Just an Ounce of Prevention….is Worth a Pound of Cure (Hay House), was a timely insight on preventive healthcare's integral role in averting chronic diseases – published at the height of a national healthcare debate and rising medical costs. The book also launched the discovery of H1's and A1's and their application to health and was translated and published in six countries.
While his initial research uncovered how an individual's blood-type predetermines their state of health based on certain types of food, exercise levels and nutritional program, Dr. D'Adamo's new discovery which he worked on until his last days, provides an unprecedented insight into further refinement of the blood-type regimen. This allows for the design of a more exact diet, exercise levels, vitamin regimen, personal temperament, and holistic structure based on genetic make-up.
Dr. D'Adamo is survived by his wife: Christiana M. D'Adamo, his two sons: Peter J. D'Adamo his wife Martha and their daughters Claudia and Emily, and James L. D'Adamo his wife Ann and son Alex, and his daughter; Michele D'Adamo her husband Scott and sons Vincent and James. He is also survived by his sister, Katherine Magrini.
A celebration of the life of Dr. D'Adamo will be held on Saturday, April 6 from 3PM to 6PM at the Remick-Gendron Funeral Home, 811 Lafayette Road, Hampton, New Hampshire. This will conclude with a short memorial service and eulogy delivered by Reverend Judith Byrd-Bullock, staff minister of First Church of Religious Science, New York. The event is open to family, friends, colleagues and patients.
We respectfully request no flowers to be sent. In lieu of flowers, donations can be made to:
The James L. D'Adamo Scholarship Fund
Pathfinder Program
College of Naturopathic Medicine
University of Bridgeport
126 Park Ave Bridgeport, CT 06604
(203) 576-4000
For more information on the D'Adamo Institute contact 603-430-7600 or visit http://www.dadamoinstitute.com