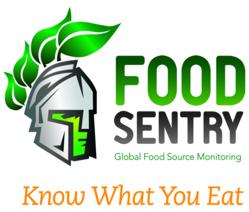 At a cost of $24.00 per year subscribers get a wealth of information to become better informed about the food they buy
(PRWEB) March 26, 2013
After more than a year in development, Food Sentry has launched its subscriber-based web service (http://www.foodsentry.org) to help members identify and avoid foreign and domestic food risks.
According to a 2013 report by the FDA, over 15% of the food consumed in the United States—including 35% of the total amount of produce consumed—is imported from foreign countries. Further, according to the National Oceanic and Atmospheric Administration, 91% of consumed seafood is imported.
These numbers are certain to rise in the future.
From 1999 to 2011, for example, food imports exploded from $41 billion to over $102 billion according to the Department of Agriculture.
Alone these rates are no cause for concern, but according to the Centers for Disease Control and Prevention, the number of foodborne disease outbreaks caused by imported food rose in both 2009 and 2010. And there is little reason to believe this trend has not continued, especially considering that only 2% of imported food is actually inspected by the FDA.
Enter Food Sentry
Food Sentry (http://www.foodsentry.org) is a global food monitoring service that provides important and timely information on food product safety from around the world to protect consumers. Their mission is to help consumers make educated choices when selecting their food products.
Food Sentry is unique in that it does not simply share existing information about food safety in the form of news or articles as other currently existing organizations do. Instead, Food Sentry's team of highly trained analysts use open-source intelligence gathering techniques to comb through immense amounts of information from both foreign countries and the United States to identify risks to consumers posed by imported and domestic food.
If there is a suspected problem with a food product, subscribers to Food Sentry's member's-only service are provided this information in the form of Import Alerts, which identify the food item in question, the country of origin, the problem associated with the product, the date it was reported, and other relevant information.
Subscribers also benefit from access to simplified FDA food recalls (including pet-food recalls). Many of these recalls are not reported by the media and so consumers may still buy these products unaware of any threats or dangers.
A third dataset subscribers get access to is condensed warning letters sent from the FDA to food producers after the FDA has determined they are violating food regulations.
Finally, all of the data Food Sentry collects is put into its Food Risk Rating system. This proprietary, algorithm-based system is used to provide subscribers with actual risk ratings for individual products based on a matrix of data including the country of origin. All of these tools combined can be used by the consumer to avoid risky foods in the United States if they are being imported, or if they are encountered abroad.
The idea for Food Sentry originated with Scott Witt, a retired senior official for a federal intelligence agency, and Robert Silver, bio-scientist and food safety expert. Together they worked on a project for the FDA that eventually became the organization's risk-based import screening system called PREDICT, which is used by all 16 FDA Import Districts to screen millions of food imports each year.
Recognizing the need for an organization dedicated to sharing food safety information directly with consumers, Witt and Silver, together with CEO John Cousins and CTO Lisa Adkins, formed Food Sentry.
"At a cost of $24.00 per year subscribers get a wealth of information to become better informed about the food they buy," says Witt. "And, most importantly, they have a better opportunity to protect themselves and their families. It's all part of our mission, to inform, advise and educate."