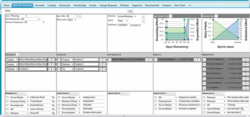 San Jose, CA (PRWEB) March 25, 2013
Biz Performance Solutions, Inc. (BPS) announced formal release of its' "Agile CONSOLE" that shows an entire Agile process on a solo web page rather than navigating multiple tabs or pages. "This single page CONSOLE style view simplifies Agile management and makes the process more productive and time saving.", said David Mosher, CEO of Biz Performance Solutions.
Wikipedia defines Agile Software Development as a group of software development methods based on iterative and incremental development, where requirements and solutions evolve through collaboration between self-organizing, cross-functional teams. It promotes adaptive planning, evolutionary development and delivery, a time-boxed iterative approach, and encourages rapid and flexible response to change. It is a conceptual framework that promotes foreseen interactions throughout the development cycle.
Agile development, in its simplest form, gives an easy-to-use framework to help teams, faced with a constantly evolving functional and technical design, to maintain focus on the rapid delivery of business value. As a result of this focus and its benefits, organizations can significantly reducing the overall risk associated with software development.
The BPS Agile CONSOLE provides views for Sprint Planning, Sprint Standups, Sprint Execution, Sprint Reviews, and Sprint Retrospectives that can be filtered by project, role (such as "Business Owner") and person.
Each view is optimized to show just the right information for each Sprint meeting to minimize meeting time and maximize collaboration. The CONSOLE features a unique rolldown/rollup technique to conserve screen space to see just the information needed.
In addition, the console also minimizes time required for creating and updating Stories by allowing for default team member's default tasks for Grooming, In-Progress, and Done as well as Release.
If an Agile's task is "in process" or "done" and needs to be taking out of the Sprint, it is automatically changed from "in process" to "growth" in BPS Agile CONSOLE.
When a task is noted as "blocked", an "issue" is automatically created so you can indicate the reason why a task is blocked.
In addition, if you move a "story" backward (typical QA process), it automatically opens up the issue to allow you to note the reason why. This simple move process ensures the "story" is back in the progress step and assigned to a specific role. When the "in progress" is completed, a simple check of an "X" releases it.
BPS's Agile console supports not only 'Feature' Stories but 'Bug Fix', 'Spike', 'Refactor', and 'Debt'. In addition, the console supports the concept of Large Technology Initiatives (Epics) as well.
BPS Agile CONSOLE seamlessly integrates with BPS's Value Creator's Change Management system behind the scene to record changes for compliance reporting with no additional effort by the team.
The Agile CONSOLE formal release is another example of BPS's "Power through Simplicity" approach.