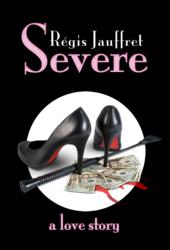 A love story? Yes, despite the humiliation, the whips, the latex and the bullets.
London, UK (PRWEB UK) 27 March 2013
Reminder: on 28 February 2005 in Geneva, a banker was murdered by his mistress during an S&M session. There ensued a notorious trial, during which the court and the press delved into the most intimate details of the lives of the deceased and his executioner lover.
In the first paragraph, the author brutally summarizes the facts, through the voice of its heroine: "I met him one evening in spring. I became his mistress. I bought the latex suit he was wearing the day of his death. I acted as his sexual secretary. He introduced me to firearms. He gave me a revolver. I extorted a million dollars out of him. He took it back. I slaughtered him with a bullet between the eyes. He fell from the chair where I'd tied him up. He was still breathing. I finished him off. I went to take a shower."
The narrator makes her confession. Raped at a young age, her mother committed her to a psychiatric hospital, from where she was rescued by an aunt. Then, she follows a libertarian couple, who give her the taste for luxury, lust and money that feels good, "...fresh beds with sheets changed every day by maids." The murderess has married to a compliant man, who agrees to stop sleeping with her.
She had met the banker after an exclusive business dinner: together with other call girls, she was the dessert. He brutalized her, she slapped him, he asked for it again, and from that night they never left each other, or not for long. Their love was based on carnal or sadomasochistic games, including money and firearms. And murder was the supreme orgasmic achievement.
Jauffret succeeds in making the narrator's conceptions totally credible: every sentence carries her tortuous personality, and she gives a loving and far from conventional picture of the banker. A performance all the more remarkable because he might appear as a caricature of the debauched billionaire: he likes to hunt endangered species, has a particular way of buying people, takes pleasure in grinding them, has a sadistic greediness, an obsession with firearms (he even has a rocket launcher), and takes pleasure in being beaten... But Jauffret refuses to moralise and acknowledges no sins. He knows that love stories are "private planets" where the only valid laws are those that allow them to last.
In an uncluttered and devastating style, the author recounts one of these love stories that, "smash into a wall that they have constructed brick by brick." A reflection on sex, power, money and emotions, 'Severe' also reveals to us a woman seeking absolution. This exploration of the relationship between Eros and Thanatos is as painful as it is beautiful.
Review
'The quality of Jauffret's language, which fluctuates between the precise and the poetic, ensures his writing never lapses into sensationalism. Severe is a dark, often brutal, but resoundingly subtle consideration of the dynamics between love, exploitation, sex and power.' Russell Williams, The Independent on Sunday
Film
Based on SEVERE and directed by Hélènes Fillières, the film TIED, with Benoit Poelvoorde and Laetitia Casta, will be released this year in the UK, Ireland and USA.
About the author
Born in 1955 in Marseille, Régis Jauffret has written 17 books and won many prizes in France.
Salammbo Press has published LACRIMOSA by Régis Jauffret, and will also be publishing CLAUSTRIA.
ISBN 978-0-9568082-40
Paperback, 176 pages, priced £10.99
salammbopress.com