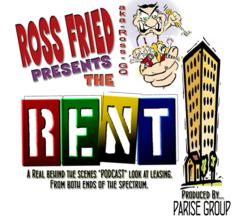 Everything you want to know about the rental industry and more.
Las Vegas, NV (PRWEB) March 25, 2013
Tenant versus landlord and vice versa. The new controversial podcast "THE RENT" has both sides of the spectrum looking for cover. Leasing Specialist and CEO of The Academy of Leasing Specialists in Las Vegas, Ross Fried hosts a new show called "THE RENT"! Co-hosted by Kathy Relyea, produced by comedian/producer Michael Wheels Parise and CEO of Parise Group. "THE RENT" goes behind the scenes in the apartment leasing industry, focusing right now in Las Vegas and projecting going national by 2014.
"We have good and bad on all avenues in the apartment industry. Sometimes what you may think is a beautiful apartment complex with all the bells and whistles, may be all smoke and mirrors with bed bugs," Ross explains. He goes on to say, "But on the other side of the spectrum, what the landlord may think of as the perfect tenants walking through the doors, may be future grow house or meth-lab in the making. It goes both ways and that is why we are having this podcast, "THE RENT"!. To tell it like it is and let the cat out of the bag, 'as long as you have a pet deposit!' We are also showcasing vendors, ex: Maintenance, pest control, landscapers, security, etc."
Ross Fried is a leading communications expert on leadership and workplace diversity with almost two decades of experience in the apartment industry. Ross gives audiences creative and practical ideas for improving themselves and their business. Coast to coast, his presentations focus on multi-cultural diversity, leadership, teambuilding and marketing. Ross uses his unique perception and brand of humor to explain the values of, "Telephone Tips and Techniques," and, "Marketing with Little or No Budget," and how to make them work for you and your organization. Parise Productions is very excited about Ross Fried and Kathy Relyea coming on board.
Kathy Relyea, Regional Property Manager, Las Vegas, Nevada
Kathy Relyea, who joined Sunrise in April, 2012, has over 27 years of experience in multi-family property management. She started her career in property management in 1985, when she moved to Phoenix, Arizona.
Parise Group and Productions was founded by Comedian/Entrepreneur, Michael Parise AKA "Wheels". PGP was developed with small business and entertainment marketing in mind. Michael Parise is a marketing master when it comes to launching new start-ups and taking them to the next level. Whether it be in the entertainment business, food business, Podcast production, Vodcast production or a new creation, PGP is focused on your success.