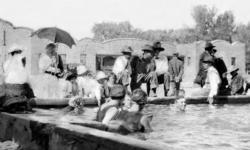 "These improvements are ongoing as is our commitment to preserving, honoring and enriching the unique character and essence of this very special place." –Andy Scott, owner and general manager, Ojo Caliente Mineral Springs Resort & Spa.
Ojo Caliente, NM (PRWEB) March 26, 2013
Ojo Caliente Mineral Springs Resort & Spa, the oldest mineral hot springs resort in the country at 145 years old, is moving forward with property improvements including upgrades to the Historic Bathhouse, the creation of a new larger Mud Area and new Lithia Pool, and other enhancements.
"We've made many improvements over the past 12 years since we assumed the position as stewards and ambassadors of Ojo in 2000," said Andy Scott, Ojo's owner and general manger. "These improvements are ongoing as is our commitment to preserving, honoring and enriching the unique character and essence of this very special place." Scott also said that Ojo is making every effort to schedule these projects during less busy times to minimize the impact on Ojo's guest experience.
Along with these aesthetic and functional upgrades, Ojo is creating separate Whisper Zones in order to maintain the tranquil setting many of its guests enjoy. In an effort to accommodate guests who are inclined to be more social within Ojo's calm environment, there will be a separate area with a more relaxed noise policy around the Large Pool and new Mud Area. This area will include new landscaping which will aid in creating a sound barrier. Whisper Zones will be maintained throughout the remainder of the Springs' and Spa areas for guests who prefer to be undisturbed in the relaxing, peaceful and quiet setting that this sacred place is known to provide. The Whisper Zone includes the Iron and Soda Pools, Cliffside Pools, new Lithia Pool, Private Outdoor Pools and the Kiva Pool available to guests lodging in our suites.
The expansion of the Historic Bathhouse will enlarge the Men's Changing Area, creating space for the addition of more lockers and men's swimsuit spinners. The original bathhouse was first built in 1868 and is one of three buildings at Ojo (including the Historic Hotel, built in 1916, and the Adobe Round Barn, build in 1924) listed on the National Registry of Historic Places.
A new Mud Area is being created in front of the Main Bathhouse near the Large Pool with the intention of it being open year-round. The Mud Area will be heated geothermally which will make the clay more soothing to the skin. The new location will also receive more sun exposure, allowing the Ojo blend of clay to dry better on the skin.
Ojo has received overwhelming feedback from guests to bring its sacred Lithia water back into use after the Lithia pump stopped working in 2011. To that end, the existing Mud Pool will be converted into a Lithia Pool enhanced with patio ramadas, additional hammocks and expanded seating.
A remodel of the Main Bathhouse is scheduled for Winter 2013/2014, with plans to add new men's and women's spa guest changing facilities with a waiting area, plus a new steam room and sauna for all guests, and 12 newly remodeled treatment rooms.
###
•Ojo Caliente's Recent Accolades
•Awards for Best Eco-Spa, Best for Affordability, Best for LGBT, Best for Mineral Springs –
SpaFinder Wellness
•One of the Best Desert Getaways – Outside Magazine Online
•Top 10 Resort Spas – Away.com
•Top 5 Favorite Mineral Springs Spas & Top 5 Most Affordable Spas – Spa Magazine
The secluded sanctuary that is Ojo Caliente Mineral Springs is tucked into a cottonwood dotted river valley just north of Santa Fe and just south of Taos, NM. Opened in 1868, and celebrating their 145th Anniversary, Ojo is one of the oldest natural health resorts in the United States, and the only hot springs in the world with four unique, sulfur-free healing mineral waters: iron, arsenic, soda and lithia. Deemed sacred by the Native Pueblo tribes of Northern New Mexico, Ojo has been a gathering place for diverse groups for thousands of years.
Ojo is both historic and fresh with eclectic charm in a relaxed and tranquil environment. It boasts a rejuvenating full-service spa, utilizing a range of Native American- and East Indian-inspired therapies, which incorporate wild crafted and indigenous herbs, flowers and essential oils. The resort consists of 48 beautifully appointed New Mexico style lodging units, including enchanting suites, charming cottages, an Historic Hotel and private homes. The Artesian Restaurant serves up fresh, inventive, locally influenced foods, as well as international dishes. Lighter fare, plus an extensive selection of local and imported wine and beer are available in the Wine Bar.
Contact:
Jennifer Padilla
JLH Media
505 577 1347
jpadilla (at) jlhmedia (dot) com