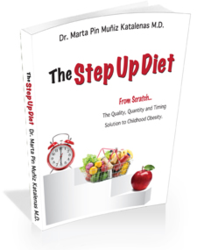 The numbers for obese children in Texas tell us we have a problem but we still don't have a plan for a solution.
Austin, TX (PRWEB) March 25, 2013
Dr. Marta Katalenas, noted pediatrician and author of "The Step Up Diet: From Scratch... The Quality, Quantity, and Timing Solution to Childhood Obesity", will speak about combatting childhood obesity at the Abacus School of Austin, Texas, on Thursday, April 4, at 6:30 p.m. Her speech will provide parents with the tools necessary to promote proper nutrition and prevent childhood obesity.
"As a pediatrician, I've been advising parents about family eating habits for over 20 years and yet the most difficult prescription I have ever written is the required change of a family's eating habits to help their child lose weight," stated Dr. Katalenas. "However, as difficult as prevention is, it's preferable to coping with the health problems that accompany obesity."
According to a UCLA study, obese children have double the risk of developing three or more physical, mental, or developmental issues; and overweight children are at 1.3 times the risk. Research also shows that 1.5 million Texas children between ages 10 and 17 years are obese, so 20 percent of Texas children are more likely to develop obesity related diseases such as diabetes, Attention Deficit Hyperactivity Disorder (ADHD), and asthma.
Childhood obesity begins at an early age when eating patterns are established. Dr. Katalenas challenges parents to fight obesity by asking themselves three simple questions when planning meals:
1. Am I providing quality food choices? Intake of sugar, salt and chemical additives promotes weight gain. Instead, consider cooking homemade meals using natural ingredients.
2. Am I providing the right quantity of food? Parents should focus on portion control. Don't give a child food choices, learn to use smaller plates and avoid going back for seconds.
3. Is it the right time to eat? In addition to limiting children to four meals each day, time the meals from three to four hours apart. And be sure to eliminate unapproved snacking between meals.
About Dr. Marta Katalenas:
Dr. Marta Katalenas is a pediatrician and owner of The Pediatric Center of Round Rock, Texas, and author of The Step Up Diet: From Scratch... The Quality, Quanity, and Timing Solution to Childhood Obesity. Her practice offers a nutrition management program that helps families make the lifestyle changes necessary to promote and maintain good health. Dr. Katalenas is a frequent guest on local television shows and is media resource on childhood obesity and pediatric health issues.