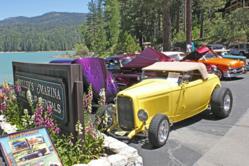 The South Shore Car Show, just one of may special events at Bass Lake, takes place at Mller's Landing. Both Miller's and The Forks Resort are opening for their spring season starting March 29.
Bass Lake, CA (PRWEB) March 25, 2013
There are some truly infallible signs of spring: wildflowers blooming, the return of some migratory birds, and The Forks Resort and Miller's Landing opening for the season on Bass Lake.
Located about 20 minutes from the southern gate to Yosemite National Park, Bass Lake is a popular destination for visitors looking for a great escape to the lake, as well as guests heading to the park.
Both The Forks Resort, located along the lake's western shore, and Miller's Landing, located at the southern end of the lake, offer a wide arrange of amenities for guests. Spacious cabins make them perfect spots for families looking to spend some quality time together on vacation, restaurants serving delicious meals, and they both have marinas with a diverse selection of watercraft to rent.
"The two resorts are great examples of what makes Bass Lake such a popular destination," said Jarrod Lyman with the Yosemite Sierra Visitors Bureau.
"Bass Lake has everything someone needs for their trip at the water's edge. Lodging, dining, shopping and more are all right there, so you never have to interrupt your vacation to go get supplies. You're always at the lake, surrounded by some truly beautiful scenery."
Lodging options at Bass Lake run the entire gamut, with camping, the cabins at The Forks and Miller's Landing, numerous vacation rental homes and The Pines Resort, a full service property. Dining options are also versatile, with family friendly dining, a bar and grill and fine dining.
Bass Lake is also home to numerous special events through the summer, such as the annual Fishing Derby May 4 and 5, arts and craft fairs, a farmer's market every Wednesday during the summer, boat shows, car shows and the third annual Bass Lake Classic Triathlon June 1.
For a full list of events, visit http://www.BassLakeChamber.com.