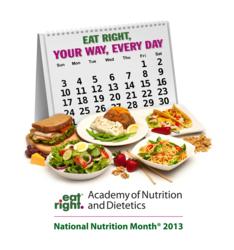 Chicago, IL (PRWEB) March 26, 2013
America is a nation of immigrants, with each group adding its cultural traditions, including food, to the country's shared multi-ethnic experience. As part of National Nutrition Month®, the Academy of Nutrition and Dietetics offers ways to "Eat Right, Your Way, Every Day" with foods from all corners of the globe.
"As a registered dietitian, I am asked every day, 'What should I eat?'," said registered dietitian and Academy of Nutrition and Dietetics Spokesperson Vandana Sheth. "The answer of course is, 'It depends.'"
"Eating is not a 'one-size-fits-all' proposition. RDNs make recommendations that accommodate the food preferences, cultural traditions and customs of the many and diverse groups who live in our country," Sheth said.
"The U.S. population is changing. By 2050, half of the U.S. population will be non-white. We need to have a global perspective on food and focus on diversity and multiculturalism, especially as they relate to the nutritional health of families," Sheth said.
The 2010 Dietary Guidelines for Americans calls a healthy eating pattern "an array of options that can accommodate cultural, ethnic, traditional and personal preferences and food cost and availability." They advise making about half your plate fruits and vegetables; about one-quarter protein, such as lean meats, black beans and tofu chunks; and about one-quarter grains, preferably whole grains. With each meal, the Dietary Guidelines recommend fat-free or low-fat milk, yogurt or cheese.
"With the countless and increasing varieties of foods that are available today, people who live virtually anywhere can follow the recommendations of the Dietary Guidelines and its MyPlate symbol to eat healthfully within the preferences of any culture," Sheth said.
Examples of healthy menus items from ethnic traditions that follow the MyPlate recommendations include:

Chinese: Stir-fried chicken and vegetables like bok choy, snap peas, carrots and bean sprouts; brown rice; and a dish of lychee fruit.
Italian: Minestrone (a hearty, tomato-based soup with beans, vegetables and pasta) with kidney beans added for folate, fiber and protein; gnocchi (flour or potato dumplings) with chopped vegetables like spinach mixed into the dough and served with lycopene-rich tomato sauce.
Greek: Tzatziki sauce (a creamy dressing of low-fat yogurt, garlic and cucumber) served on pita sandwiches or as a dip with vegetables; and dolmas (grape leaves stuffed with ground meat, vegetables such as bell peppers, eggplant and squash, rice, dried fruit and pine nuts).
Mexican: Jicama (a crisp and slightly sweet root vegetable) peeled, sliced and served on a salad with lime vinaigrette or chopped for a crunchy addition to salsas; and gazpacho (a cold tomato-based raw vegetable soup) made with spinach or cucumbers.
Additional menu ideas for ethnic foods that meet the recommendations of the Dietary Guidelines and MyPlate include:

Fruit chutney (Asian Indian)
Grilled pineapple as part of a chicken shish kabob (Middle Eastern)
Mango or other tropical fruit smoothie (Latin American)
Baked pumpkin sprinkled with cinnamon (African)
Polish beets (European)
Stir-fried greens (Asian)
Cactus salad (Latin American)
Succotash (Native American or Southern U.S.)
Couscous (African)
Quinoa (Latin American)
Naan bread (Asian Indian)
Egg noodles (German).
Visit the Academy's Eat Right TV YouTube channel for a video with tips for eating right with foods from all ethnic traditions.
As part of this public education campaign, the Academy's National Nutrition Month website includes a variety of helpful tips, games, promotional tools and nutrition education resources, all designed to spread the message of good nutrition around the "Eat Right, Your Way, Every Day" theme.
The Academy of Nutrition and Dietetics (formerly the American Dietetic Association) is the world's largest organization of food and nutrition professionals. The Academy is committed to improving the nation's health and advancing the profession of dietetics through research, education and advocacy. Visit the Academy of Nutrition and Dietetics at http://www.eatright.org.