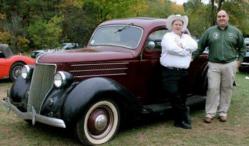 "Whatever your budget is, this auction enables everyone to own a piece of history." - Kenny Lindsay, American Eagle Auction & Appraisal Company
DUNDEE, MICHIGAN (PRWEB) March 27, 2013
History is up on the auction block! Two live public auctions are scheduled in the month of April to sell the world renowned museum contents belonging to the late Michael Yeck, purveyor of the Dundee Motor Pool Museum.
The first auction on Wednesday, April 17, 2013 at 10:30 a.m. will feature Antique to Modern Tools and Shop Equipment. On Saturday, April 27, 2013, the auction dubbed 'The Grand Finale' will feature a robust military vehicle and classic car auction along with thousands of military relics.
The former Mayor of Dundee, Michigan, Mike Yeck passed away this past August was instrumental in establishing the Veterans Memorial in Dundee and a long standing member of the Moore-Lenz-Wakefield VFW Post 6462. In 1947, he established Yeck Manufacturing. Years later, he gained national prominence when he established Yeck Antique Firearms and ultimately the Dundee Motor Pool Museum which attracted visitors from all around the United States to view his enormous collection of military vehicles and memorabilia dating back to the Civil War.
Mike Yeck served in the Army during World War II. In fact, Yeck was one of the first men to volunteer for the Selective Service in 1940 and had only expected to serve about two years. His plans changed, however, when the Japanese attacked Pearl Harbor on December 7, 1941, and he served out the rest of the war, including participating in D-Day, June 6, 1944, when the Allies invaded Nazi-controlled France.
During the initial part of the invasion, Yeck was aboard a boat the was towing an artificial harbor – a 200 foot long, 30-foot-high barge that was supposed to be used as a breakwater to make it easier for troops to disembark on the beach. Yecks boat was hit and sank while the barge broke up. Yeck and his crew mates treaded water until they were picked up by another boat. On the way back to England, he was ordered to go to a Liberty Ship, a cargo vessel, to operate a floating crane and replace the previous operator who had broken his leg. Tragedy struck when 10 of the 12 men in his crew were killed when his ship hit a mine.
Yeck passion for collecting was born after he took his first trip back to France since the end of the war in 1989 during the commemoration of the 45th Anniversary of D-Day. From there, one of the most profound military vehicle and memorabilia collections began in a pair of aluminum hangers he created after the war for his manufacturing business in Dundee, Michigan.
"Mr. Yeck was a profound showman of military history.This auction will provide the spotlight and stage that he deserves" Said professional auctioneer, Kenny Lindsay. Lindsay adds; "This auction is much more than military vehicles. There are thousands of individual items. Everything from Civil War cannon balls to wagon wheels, fishing tackle and a portable military organ. Heck, there is even a back-to-back double occupant military toilet. Whatever your budget is, this auction enables everyone to own a piece of history."
The following dates are noteworthy. Tool & Equipment Auction and Open House, April 17th at 10:30 a.m. Media Preview and Open House on Wednesday, April 24th from 5:00-7:00 p.m. and The Grand Finale featuring 40 Military and Classic Cars along with thousands of military artifacts on Saturday, April 27th at 10:30 a.m. Arrive early and all parking for the April 27th date will take place at Cabelas. Shuttle busses will be running throughout the day.
To view over 600 pictures of what will be sold and for more information, please visit the American Eagle Auction & Appraisal Company website at http://www.MichiganAuctionCompany.com . Contact Kenny Lindsay at (734) 223-3277 or Auction Manager, David Helmer at (734) 368-1733.
##