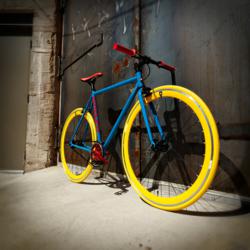 We might have spilled a little champagne on that frame before it went out the door. - Matt Peterson, Big Shot founder and owner
Fort Collins, Colorado (PRWEB) March 26, 2013
Big Shot Bikes, maker of design-your-own fixed gear and single speed bikes, recently reached a significant milestone with the sale of its 10,000th bike. The company launched in Fort Collins, Colorado, in December of 2009, and has seen steady growth in both direct sales and through key retail distribution since its inception.
"It kind of snuck up on us, but when we saw that this was our 10,000th bike, we definitely had a celebration," says Big Shot founder and owner Matt Peterson. "We might have spilled a little champagne on that frame before it went out the door."
Helping to support Big Shot's sales growth has been the recent launch of its HTML5 optimized iPad bike builder application. The program, which has been in a successful test phase for the past two months, allows consumers to easily design their custom Big Shot bike on an iPad.
Introduction of the application has supported Big Shot's significant sales growth in the early months of 2013. There has been a 30 percent increase in iPad sales during the first two months of 2013, when compared to all of 2012. With the launch of the new application, year-over-year sales conversion is up 444 percent on iPad devices, which maintain the highest conversion rate of all mobile platforms.
"With more consumers shopping on mobile devices, it is crucial for our mass customization business to have a seamless moblie application," says Peterson. "iPads account for 10 percent of our total site traffic and visits are up significantly over last year, since the introduction of our bike builder application."
In addition to supporting Big Shot's direct sales business, the steamlined HTML5 application will provide brick and mortar dealers with the opportunity for customers to design a bike on an in-store iPad and complete the transaction.
Previously, Big Shot offered custom in-store kiosks to key dealers. However, the iPad program is significantly more scalable and instantly available to all retailers. The HTML5 application operates on the iPad without requiring any downloads or installation.
About Big Shot Bikes
Located in Fort Collins, Colorado, Big Shot Bikes has been building customized, fixed-gear and single-speed bicycles since 2009. Big Shot is a leader in mass customization, allowing customers to design their own unique bikes online at bigshotbikes.com. With a choice of frame sizes, handlebar styles and thousands of color combinations, Big Shot offers fun, durable, high-quality bikes at an affordable price.