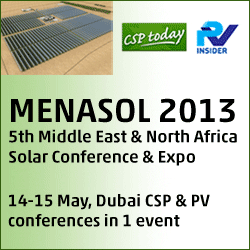 Dubai (PRWEB UK) 27 March 2013
Matt Carr announced the news on Friday 22 March, explaining that the popularity of the site visit last year made it an easy choice to make for 2013. "With Shams 1 now online, interest in seeing the plant in action has been enormous," he said. "We are delighted to give MENASOL attendees the chance to tour the plant and see a key milestone in the progress of the solar industry for themselves."
With a power output of 100MW, Shams 1 is one of the largest concentrated solar power plants in the world, utilising parabolic trough technology. The size of the plant site is around 2.5km². The solar field includes 258,048 mirrors that take up a total aperture of 627,840m², consisting of 768 units of solar collector assemblies.
The site visit complements the presentation to be given by the Shams Power Company at the MENASOL conference, which will detail the first experiences of the plant. Challenges such as the environmental conditions will be addressed in the presentation, which can then be illustrated at the plant itself.
"Getting the unique chance to tour the plant will be an incredible experience and also give attendees an extra round of high-level networking time throughout the visit," Carr concluded.
To see more details on the site visit, as well as the MENASOL conference, please visit: http://www.csptoday.com/menasol/site-visit.php
Contact information:
Matt Carr
CSP Today
matt(at)csptoday(dot)com