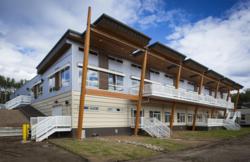 Each of the projects recognized by the MBI this year demonstrate our commitment to excellence and innovation in all areas of modular construction.
Calgary, Alberta (PRWEB) March 25, 2013
ATCO Structures & Logistics announced today that it has received several Awards of Distinction from the Modular Building Institute (MBI). Leading the way was ATCO's design and construction of MEG Energy's workforce housing facility which received both first place in the permanent modular commercial housing category as well as overall highest scoring entry.
Located near Conklin, Alta., the MEG Energy Pirate's Cove Lodge is built near the shoreline of Christina Lake and features open web wood trusses and glulam cross beams to create the feel of a high-end ski lodge. The 150-bed operations lodge is equipped with a pre-engineered gymnasium with a full basketball court, theatre and world-class kitchen. To protect workers from extreme weather conditions, the lodge has a skywalk system which is designed to withstand site specific wind, snow and seismic loads.
"Each of the projects recognized by the MBI this year demonstrate our commitment to excellence and innovation in all areas of modular construction," said George Lidgett, Executive Vice President, Operations and Manufacturing, ATCO Structures & Logistics. "Whether it is the marketing, design or construction of modular solutions, ATCO, along with our customers, is leading our industry."
In the renovated reuse category, Tecno Fast ATCO, a joint venture between ATCO Structures & Logistics and Tecno Fast, was awarded best in show for its office in Santiago, Chile. To support business expansion, a new office facility was built using renovated units from the rental fleet. Using existing units and materials in unique ways allowed for a significant reduction in environmental impact as well as a shorter project schedule.
ATCO's newest office in Calgary received an honorable mention and was commended for its environmentally efficient, durable and visually appealing finish. This building uses Platinum Level Sustainable Choice carpeting in the offices, recycled tire carpet tiles in entrances and stair landings, and vinyl plank flooring made with 50 per cent recycled material throughout the common areas.
The second honorable mention went to a larger office complex located near Kirby Lake, Alta., which includes office space, a control room, a locker room, a lunchroom and an attached pre-engineered warehouse building for an oil sands site. Heavy duty construction materials, additional sheer walls and a reinforced pile foundation provide blast-resistance for the complex.
ATCO's 3D animation video of workforce housing and lodging services also received an honorable mention in the multimedia marketing piece category. This fly-through animation visually captures the implementation of ATCO's largest modular housing solution from site preparation to implementation.
The MBI Awards of Distinction are judged on several criteria: architectural excellence, technical innovation, energy efficiency, cost and calendar days to complete. An impartial panel of industry and non-industry construction experts, architects and engineers, and marketing professionals reviews each entry.
ATCO Structures & Logistics offers modular buildings, site services and industrial noise control solutions worldwide. With manufacturing facilities in North America, South America and Australia, and operations on five continents, the company has the expertise to deliver a rapid, turnkey solution anywhere it is needed. To learn more, visit http://www.atcosl.com.
ATCO Structures & Logistics is part of the ATCO Group of Companies. ATCO Group, with more than 9,400 employees and assets of approximately $14 billion, delivers service excellence and innovative business solutions worldwide with leading companies engaged in structures & logistics (manufacturing, logistics and noise abatement), utilities (pipelines, natural gas and electricity transmission and distribution), energy (power generation, natural gas gathering, processing, storage and liquids extraction) and technologies (business systems solutions). More information can be found on http://www.atco.com.
For media inquiries or further information, please contact:
Alisa Charkova
Senior Advisor, External Communications
ATCO Structures & Logistics
Tel. 1 403 292-7769
Mob. 1 403 826-0961