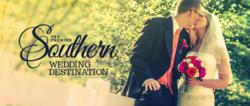 With more than 10,000 brides planning Sevierville, Pigeon Forge and Gatlinburg weddings each year, the wedding venues in Gatlinburg, Tenn., are on trend
Sevierville, TN (PRWEB) March 28, 2013
On March 20, 2013, visitmysmokies.com announced the top 2013 seasonal wedding trends that will again make the Smoky Mountains a premier location for destination weddings in Gatlinburg. The top trends include a rise in the popularity of eloping, a trend toward U.S. locations as a more economical option for destination weddings, and a return to the simplicity of outdoor venues for more traditional ceremonies.
According to The Wedding Report, a company providing statistics and market research for the wedding industry, the average cost of a wedding in the U.S. increased by less than one percent from 2011 to 2012 and the average number of guests dropped slightly.
Olga Weirbicki, owner of Stellar Wedding Services and President of the Smoky Mountain Wedding Association, said she isn't surprised by report and that the relatively flat budget numbers, coupled with this year's trends, reinforce the idea that budget-friendly weddings and wedding packages in Gatlinburg, TN, make sense for many couples.
"Couples today have weathered an uncertain economic environment, they're marrying later or even marrying again and they want to be on trend with their big day, but in an economical way. Smoky Mountain weddings offer wonderful options in all price ranges, from wedding chapels and outdoor weddings in Gatlinburg, TN. for larger ceremonies to intimate cabin weddings in Gatlinburg, TN for couples that want to elope."
According to Visit My Smokies, the area is considered the wedding capital of the south for good reason. With more than 10,000 brides planning Sevierville, Pigeon Forge and Gatlinburg weddings each year, the wedding venues in Gatlinburg, TN, are on trend and well equipped to handle any event on any budget. From venues, to florists, bakers, catering services, spas and photographers, Gatlinburg wedding chapels, Pigeon Forge cabin rentals and cabin weddings in Gatlinburg, TN are each budget-friendly Smoky Mountain wedding options.
In addition to Smoky Mountain wedding ideas, visitmysmokies.com offers ideas for Smoky Mountain fun and provides Pigeon Forge coupons and discounts for groups, as well as group condo and cabin rental information for your wedding in Gatlinburg.
Established in 2009, Visit My Smokies is the premier Great Smoky Mountain destination lodging website. The program is owned by Sevier County, TN, and developed to build revenue, through the promotion of travel and tourism, in relation to Gatlinburg, Pigeon Forge and Sevierville area lodging, attractions, dining and shopping. Visit My Smokies is operated by the Sevier County Economic Development Council. All offices are located at:125 Court Ave., Suite 102 E, Sevierville, TN 37862.
For more information regarding a wedding in the Great Smoky Mountains, contact inquire(at)visitmysmokies(dot)com or link to http://www.visitmysmokies.com or call 1(800) 891-9782.