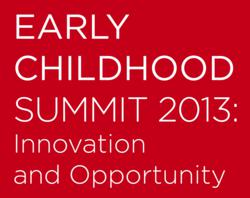 Boston, MA (PRWEB) March 26, 2013
Boston Children's Museum (celebrating its 100th birthday), in collaboration with the Massachusetts Chapter of the American Academy of Pediatrics, the Center on the Developing Child at Harvard University, and Strategies for Children, announced the Early Childhood Summit 2013: Innovation and Opportunity to engage local leaders in developing new ideas to dramatically improve learning and health outcomes for children and families. By bringing together leaders from a wide range of fields, the Summit seeks to expand and improve innovative, community-based models that are built on science and evidence and guided by practical experience and cross-sector knowledge.
The Summit will be held on April 5, 2013 at the Federal Reserve Bank of Boston and will bring together neuroscientists, pediatricians, educators, museum professionals, business leaders, economists, parents and policymakers. Participants will focus on identifying and accelerating the adoption of effective practices that support early learning and the healthy development of young children.
Advances in neuroscience, genetics, and the behavioral and social sciences are offering new understanding into the critical impact of early childhood experiences on the development of children's ability to learn and function effectively as they grow older and on the importance of early childhood intervention in preventing costly chronic illness in adults. Important insights into brain development are demonstrating the link between early experiences and executive functioning, the cognitive process that regulates an individual's ability to organize thoughts, prioritize tasks, manage time, and make decisions. These findings have implications for parenting, pediatric care, early education practices, informal learning experiences, child care, work force development, business investment and competitiveness, and government policy.
Summit sessions will focus on recent brain research, digital media and child development, early care and education initiatives in urban and rural areas, parenting practices, family engagement, the role of play and unstructured learning, literacy, pediatric and family health, and effective investment strategies.
Leaders in formal and informal education, pediatrics, business and policy will participate including:

Michael Yogman, MD, Chairman, Boston Children's Museum and Member of the Executive Board of the Massachusetts Chapter of the American Academy of Pediatrics
Eric Rosengren, President and CEO, Federal Reserve Bank of Boston
Jack Shonkoff, MD, Director, Center on the Developing Child, Harvard University
Elizabeth Babcock MCRP, PhD, Crittenton Women's Union
Jim Perrin, MD, President elect, American Academy of Pediatrics
Carole Charnow, President and CEO, Boston Children's Museum
John Fish, Chairman and CEO Suffolk Construction
Marcy Reed, President, National Grid
Tom Leighton, CEO, Akamai Technologies
Charles Rizzo, Principal Financial officer and Chief Financial Officer, John Hancock Funds
Michael K. Durkin, President and CEO, United Way of Massachusetts Bay and Merrimack Valley
A full listing of speakers and sessions can be found at http://earlychildhoodsummit2013.eventbrite.com. The Summit is also generously supported by The Massachusetts Department of Early Education and Care, and the United Way of Massachusetts Bay and Merrimack Valley and TruePoint Center for Higher Ambition Leadership.
Pre-registration for media is required.
Location:
Reserve Bank of Boston
600 Atlantic Ave
Boston, MA 02210
Friday, April 5, 2013 from 7:30 AM to 5:00 PM
About Boston Children's Museum
Boston Children's Museum engages children and families in joyful discovery experiences that instill an appreciation of our world, develop foundational skills, and spark a lifelong love of learning. The Museum is a welcoming, imaginative, child-centered learning environment that supports diverse families in nurturing their children's creativity and curiosity. We promote the healthy development of all children so that they will fulfill their potential and contribute to our collective wellbeing and future prosperity. More information about Boston Children's Museum can be found at http://www.BostonChildrensMuseum.org. Become a fan of the Museum on Facebook at https://www.facebook.com/BostonChildrensMuseum and follow us on Twitter at https://twitter.com/#!/BosChildMuseum
About The Massachusetts Chapter of the American Academy of Pediatrics
The Massachusetts Chapter of the American Academy of Pediatrics is a member organization of over 1,800 pediatricians who are committed to the attainment of optimal physical, mental and social health for all infants, children, adolescents, and young adults. To this end, the members of the Academy dedicate their efforts and resources. For more information, visit http://www.mcaap.org.
About the Center on the Developing Child
The Center on the Developing Child at Harvard University was founded in 2006 on the belief that the vitality and sustainability of any society depend on the extent to which it expands opportunities early in life for all children to achieve their full potential and engage in responsible and productive citizenship. We view healthy child development as the foundation of economic prosperity, strong communities, and a just society, and our mission is to advance that vision by using science to enhance child well-being through innovations in policy and practice.
About Strategies for Children
Strategies for Children and its Early Education for All Campaign work to ensure that children in Massachusetts have access to high-quality early education and become proficient readers by the end of third grade. Read our blog, Eye on Early Education. Find us on Facebook. Follow us on Twitter. View us on YouTube.
###