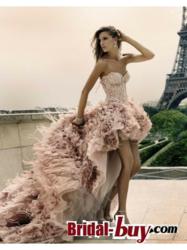 (PRWEB) March 26, 2013
Bridal-Buy is a well-known wedding dresses manufacturer, offering nearly a thousand of prom dresses in its product line. Now, the company is providing great discounts on its 2013 prom dresses collection-- up to 60% off-- to provide women a cheaper way to buy trendy prom dresses online.
Bridal-Buy's prom dresses are available in a wide collection of modern colors, featuring trendy designs, gorgeous looks, top materials, and delicate craftsmanship. Now, the company is offering these dresses at discounted prices. For example, one of the prom dresses (item code: 020017361, called "New Style Special Design Sexy Princess Sweetheart Short Lace Yellow Prom Dress"), was previously priced at $259, and it is offered at a new discounted price of $129.
Bridal-Buy's prom dresses collection includes many popular styles, such as A-line prom dresses, empire prom dresses, sweetheart prom dresses, modest prom dresses, and etc. They are now available, especially for the ladies who never compromise on quality and style. Customers can also contact the store if their desired option or size is not available or if they want a completely custom design.
"We are proud to offer our prom dresses to ladies worldwide. This allows them to receive our product at lower prices. The shopping of high-quality prom dresses from Bridal-Buy must be a great shopping experience," says, Jennifer Nicole, CEO of the company. "We hope to expand the middle-end online market, and I would like to thank all our clients."
In addition, Bridal-Buy is also offering similar discounts on its thousands of different styles of women's dresses and wedding bridesmaid dresses. Customers can receive their elegant top-quality wedding dresses easily through some clicks of a mouse.
About Bridal-Buy
Bridal-Buy has been in existence for more than 5 years, aiming to 'make women more beautiful' by offering stylish and high-quality women dresses to each woman. The company is supplying a range of women dresses, like discount wedding dresses, cheap evening dresses, and more. Good customer service, high-quality, fast delivery, and competitive prices, are the reasons to choose Bridal-Buy.
To learn more about their newest collection of women's dresses, please visit: http://www.Bridal-Buy.com/.