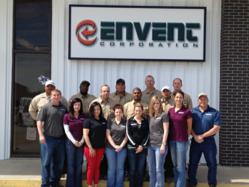 We have implemented a variety of green renovations as well, including solar panels and low flush toilets to provide an even greener working environment
New York, New York (PRWEB) March 27, 2013
Business Review today announces the recent launch of Envent Corporation's new office facility in Deer Park, Texas open and operating since March 18, 2013. The new space, located at 1310 Underwood Street, Deer Park, Texas, 77535 is a result of a surge in growth for the company and is set to accommodate employees with a larger working environment and greener conditions. This new yard will be the headquarters for the company's expansion throughout the Gulf Coast.
After a six month renovation, Envent's new yard will provide a larger office space, meeting areas, and a maintenance shop for team members. Currently, Envent employs 41 full-time employees in Texas and plans to hire nine more in 2013 in the administrative, technical and managerial divisions. "We are so pleased to announce our newest Texas location as our Gulf Coast headquarters," Steve Sellinger, founder of Envent Corporation says about the opening. "Envent employs the strongest team in the the mobile vapor, water treatment and environmental services industry and we ensure continued success through teamwork, performance-based advanced systems and providing our employees with the best possible working conditions. We have implemented a variety of green renovations as well, including solar panels and low flush toilets to provide an even greener working environment. At Envent, we care about our employees, our clients and the environment and are thrilled about the future of Envent's growth and the levels of service it will provide for customers and potential customers."
Envent Corporation currently has four other office locations in the United States with the main corporate headquarters in Long Beach, California and service is available to customers 24 hours a day, seven days a week. The company plans to hold an open house for customers to view the location in May 2013. The Texas headquarters can be reached at (888) 997-9465.
-30-
The #1 National Leader in Degassing, Odor and Vapor Control & Mobile Water Treatment. Envent was formed in 1992 to provide industrial and municipal customers with engineered solutions for a range of environmental problems. Envent is dedicated to building long term relationships, improving client administrative and operational efficiencies and delivering outstanding results.