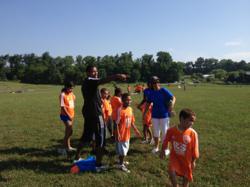 We view soccer as a powerful vehicle for social change.
Marlton, NJ (PRWEB) March 25, 2013
Twenty-five Soccer for Success participants between the ages of 8 -12 who live at Regency Park Apartments in Coatesville, Pennsylvania, have been invited to participate in a special day of Let's Move activities at the White House.
Soccer for Success is the U.S. Soccer Foundation's free soccer-based afterschool program that uses soccer as a tool to combat childhood obesity and promote healthy lifestyles for children in under-resourced urban communities. The program in Coatesville is run by the JT Dorsey Foundation and hosted by the housing community served by Better Tomorrows.
On Tuesday, March 26, President Obama will welcome the Stanley Cup champion Los Angeles Kings and the Major League Soccer champion LA Galaxy to the White House to honor their 2012 championship seasons in a ceremony at the White House. This visit will also continue the tradition begun by President Obama of honoring sports teams for their efforts to give back to communities as part of their trip to Washington.
After the ceremony, the teams will host a Let's Move! clinic on the South Lawn of the White House for youth sport participants from across the country. The clinic is supported by MLS WORKS, MLS's community outreach initiative that promotes the importance of living a healthy lifestyle, and the Kings Care Foundation, the club's community outreach initiative that is focused on providing and enhancing educational, recreational, and health-related programs for the youth of Los Angeles.
Among the children participating in the clinic are youth soccer players who live at Regency Park Apartments who participate in the U.S. Soccer Foundation's Soccer for Success program through the JT Dorsey Foundation.
Regency Park Apartments, an affordable housing community for families with low and moderate incomes located in the Philadelphia suburb of Coatesville, is owned by The Michaels Development Company and managed by Interstate Realty Management, both companies of The Michaels Organization.
Since the apartment community first opened in 1980, Regency Park has provided a host of social services designed to empower residents and support the wider neighborhood, including adult education, job training, health and wellness programs, and extensive after-school and summer enrichment programs for children and teens that include a NASA-endorsed robotics program and organic gardening. In February 2013, the award-winning social services division of Interstate Realty Management was transitioned to a new non-profit organization called Better Tomorrows, which is now providing the supportive services to Regency Park residents through a strategic partnership with The Michaels Organization.
In 2012, JT Dorsey, a retired pro soccer player who lived at Regency Park Apartments when he was growing up, offered to bring the U.S. Soccer Foundation's Soccer for Success program to Regency's young residents through his J.T. Dorsey Foundation, a community-based non-profit organization that, through its partnership with The U.S. Soccer Foundation, seeks to provide key services that are lacking, but necessary, in inner city Pennsylvania communities.
The mission of the U.S. Soccer Foundation is to enhance, assist and grow the sport of soccer in the United States, with a special emphasis on underserved communities. By supporting the development of places to play, places to grow and places to learn, the U.S. Soccer Foundation seeks to ensure that children in underserved communities have easy and affordable access to quality soccer programs that support their physical and personal development.
More than 35 children who live at Regency Park are currently involved in the program, which is provided to them completely free of charge.
"In addition to my hometown, the Coatesville program is important for the JT Dorsey Foundation because the need for programs and services are great in the area," Dorsey said. The poverty rate in 2009 was 12.9% statewide, 16% for children. For Coatesville 27.2% of its residents reported living in poverty with a chilling 40% of its children 11 years old and younger living in poverty.
"With the help of Crystal Lowery, Better Tomorrow's Social Services Coordinator at Regency Park, Amy O'Grady, the head coach and coordinator of the Soccer for Success Program, and the entire staff at Regency, we have used the game of soccer to positively influence the lives of the participants and help them change their attitudes towards academic excellence, living health lifestyles, and their ability to make positive sustainable changes in their world," said JT Dorsey. "And, although there is still so much more we need to do to ensure these young people a positive, healthy future, the work we have done to date has not gone unnoticed, and we are thrilled to provide the children of Regency Park with this once in a life-time opportunity to meet President Obama," Dorsey said.
Better Tomorrows and Interstate Realty Management are working with the JT Dorsey Foundation to expand the program to additional sites within The Michaels Organization portfolio.
"Better Tomorrows is very proud to be a partner of the JT Dorsey Foundation and the Soccer for Success program," said Rebecca Tone, President and CEO of Better Tomorrows. "The impact this program has on our youth participants is incredible and, as such, we are thrilled at the possibility of exploring how we can grow this program to reach more children facing adversity in Better Tomorrows' communities."
About The Michaels Organization:
The Michaels Organization is a family of eight integrated but independent companies dedicated to excellence in affordable, mixed-income, military, and student housing. Our mission is to create attractive residential communities for families, seniors, military service members, and students that stand the test of time and that are managed to maximize long-term value for residents as well as investors. Serving more than 100,000 residents in 340 communities across 33 states, the District of Columbia, and the U.S. Virgin Islands and with a development portfolio valued in excess of $3 billion, The Michaels Organization is a national leader in the residential real estate industry, with full service capabilities in development, property and asset management, construction, mortgage finance, and tax credit syndication. Visit http://www.TheMichaelsOrg.com for more information.
About Better Tomorrows:
Better Tomorrows gives youth, families, and neighborhoods the services and support they need to realize their potential and overcome the effects of generational poverty. By providing a continuum of comprehensive services to struggling neighborhoods, Better Tomorrows programming builds skills, improves civic engagement and pride in the community, and fosters confidence in a better tomorrow for all of its residents
About The JT Dorsey Soccer Foundation:
The JT Dorsey Foundation is a non-profit, youth development organization. The JT Dorsey Foundation's mission is to provide wellness education, physical activity, mentoring, leadership, employment training and a safe space for at-risk children to grow up. The JTDF uses the medium of soccer to develop strong moral character, inspire academic excellence and promote community involvement for participants. The JT Dorsey Foundation currently offers programs for youth ages 5-18 located in Coatesville, Harrisburg, Lancaster, Lebanon, Philadelphia and York, Pennsylvania.