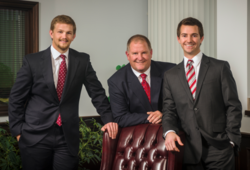 I am proud to be part of the NetGain family and work at such a wonderful business with great people." - Brendan Jacobson
Lexington, KY (PRWEB) March 26, 2013
As a local, family-owned business, NetGain Technologies is proud to celebrate Brendan Jacobson's 5th anniversary with the company.
Working in the business at the age of 5, he washed windows and swept the floors. He started full time as an account executive in 2007 and today, Brendan is the Director of Managed Services sales where he leads the dedicated Technology OneSource team at NetGain Technologies.
"I am proud to be part of the NetGain family and work at such a wonderful business with great people. NetGain has come a long way since my grandfather founded it in 1984. The future looks bright for us and I am excited for our continued growth. More importantly, I am excited to serve our clients and help them be more efficient with our Technology OneSource program," said Brendan.
Brendan has played a key role growing the managed services program to establish NetGain Technologies as a premier service provider in the region. The expansion of services includes adding a 24x7 level of support that clients can choose as an upgrade to support their business. In order to offer this service, NetGain Technologies has hired 7 new remote systems engineers.
Overall, in 2012, NetGain Technologies grew the Technology OneSource program by 43% and the managed services program is expected to see continued and dynamic growth in 2013.
"It's wonderful to see Brendan earn a major role in the company after years of doing everything from stuffing envelopes to generating sales; he learned the business from the ground up," explained NetGain Technologies' CEO Mark Jacobson, Brendan's father.
"We are now into the 3rd generation of this family owned business that strives to create happy clients through effective technology solutions."