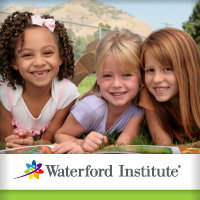 "Waterford continues to lead the industry by providing effective, engaging products that create a solid foundation of learning."
Salt Lake City, Utah (PRWEB) March 26, 2013
Waterford Institute, a global nonprofit research organization focused on student-centered educational solutions, today announced that Waterford Early Learning™ was named a finalist for the 2013 SIIA Education CODiE Awards in three categories: Best PK-12 Personalized Learning Solution, Best Reading/English/ELL Instructional Solution, and Best Instructional Solution in Other Curriculum Areas. The SIIA CODiE Awards are the premier award for the software and information industries, and have been recognizing product excellence for 27 years. The awards have over 75 categories and are organized by industry focus of Content, Education and Software.
"Being selected as a Finalist for the prestigious CODiE Awards is a tremendous honor. Being named a Finalist in three categories gives recognition to Waterford Institute's mission to provide equity and excellence in education." said Dr. Benjamin Heuston, COO and President of Waterford Institute. "Having received two CODiE Awards in the past, this Finalist designation underscores the fact that Waterford continues to lead the industry by providing effective, engaging products that create a solid foundation of learning."
This year's program features 23 Education categories, several of which are new or updated to reflect the latest industry trends and business models. Winners will be announced during a special awards dinner at the nation's leading education technology conference, the Ed Tech Industry Summit, in San Francisco on May 6.
Waterford Early Learning™ is a comprehensive, computer-based curriculum designed to help children build the academic foundation necessary for a lifetime of learning. Waterford Early Learning individualizes several years of comprehensive language arts, math, and science education. Composed of Waterford Early Reading Program™ and Waterford Early Math and Science Program™, Waterford Early Learning has been proven effective for all learners, whether they are accelerated or struggling, native English speakers or English Language Learners. Regardless of the student's background knowledge or preliteracy skills, the program adapts automatically to give each student a learning experience that's tailored to his or her exact needs. Waterford Early Learning has improved education for millions of children around the world.
Learn more about the award-winning Waterford Early Learning™ program at http://www.waterfordearlylearning.org/
"We're pleased with the innovative educational technology products that made it to this stage. All of this year's finalists show great promise, and they should be proud of their finalist status," said Karen Billings, vice president of the SIIA Education Division. "I look forward to seeing them all in May at the Ed Tech Industry Summit."
Details about each finalist are listed at http://siia.net/codies/2013/finalists.asp
About SIIA
SIIA is the leading association representing the software and digital content industries. SIIA represents approximately 700 member companies worldwide that develop software and digital information content. Information technology (IT) and software security are critical issues to SIIA's members, many of whom strive to develop safe, secure and state-of the-art products that effectively serve their commercial and government customers alike, while protecting their intellectual property. The SIIA Education Division serves and represents more than 200 member companies that provide software, digital content and other technologies that address educational needs. The Division shapes and supports the industry by providing leadership, advocacy, business development opportunities and critical market information. For more information, visit http://www.siia.net/education.
About Waterford
Waterford Institute (http://www.waterford.org) is a nonprofit research center dedicated to providing every child with the finest education through the development of high-quality educational models, programs, and software. Founded by Dr. Dustin Heuston in 1976, Waterford Institute uses rigorous research to build award-winning, proven educational programs. Since creating the first educational videodisk, Waterford Institute continues to be at the cutting edge of technology-delivered instruction. Today, Waterford Institute is an international leader in preschool through second grade software for reading, math, and science programs and has reached millions of children globally. For more information, visit http://www.waterford.org or contact 801.349.2223.
Waterford Institute is headquartered in Salt Lake City, Utah, USA.