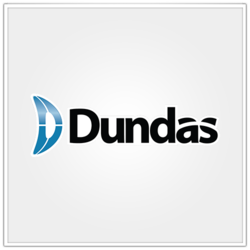 "We're excited to finally let people know the industry secrets that we've been sitting on for these last few years" says Scott Benzie, Marketing Director at Dundas.
TORONTO, CANADA (PRWEB) March 26, 2013
For the first time, all those curious about the various controls (charts, gauges, maps, grids, etc) that go into designing a complete and informative dashboard can view and read in-depth information about the various types of charts and graphs that can be used in combination to tell the proper story with their data. These objects and controls are currently used when creating Dundas Dashboards, but the basic understanding of these various charts can be used across a variety of data visualization tools.
"We're excited to finally let people know about some of the tools used in dashboard best practices" says Scott Benzie, Marketing Director at Dundas Data Visualization. "With dashboards becoming more and more prevalent in the Business Intelligence market, we figured that it was time to let people know exactly what controls they can use to bring their data to life, beyond the standard pie and bar charts that we've become so accustomed to seeing".
Users are invited to visit the new Dundas Data Visualization Gallery to learn about such controls as candlestick charts, treemaps, pareto charts, stacked area graphs and six sigma xbar charts, amongst dozens of other visualization objects. All of these graphing components can be studied in order to build industry-leading dashboards, or to just gain a better understanding of the different data visualizations that are used by data experts to make sense of large data sets on a daily basis.
About Dundas
Founded in 1992 in Toronto, Ontario, Dundas Data Visualization has been an industry leader in innovative technologies for years. With over 20 years of experience, Dundas is focused on creating smart, fact-based data visualizations that can are accessible at all levels of your organization. Dundas Data Visualization has been a proud recipient of Microsoft's TechEd Award, Software Magazine's Software 500, the Branham 300 Award and the SD Times 100, among others.
Dundas Connect offers a partner program that provides companies with the opportunity to strengthen business and gain new revenue opportunities with our unique technology. The Connect program is for software resellers and solution providers of all sorts who are looking to provide unique, flexible technology that expands and improves their portfolio of products. The Connect Partner Program engagement options include Value Added Reseller, OEM, SaaS and Referral partnerships.
For more information visit http://www.dundas.com/dashboard/data-visualization-gallery/