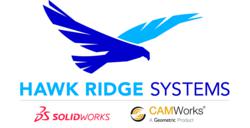 Hawk Ridge Systems offers a fully integrated CADCAM Solution with SolidWorks and CAMWorks - it is easy and affordable. - Tim Fulton, CAMWorks Product Manager
Oakland, CA (PRWEB) March 28, 2013
Hawk Ridge Systems®, a global leader in engineering design solutions, will exhibit at the Northwest Machine Tool Expo 2013 in Portland, Oregon on March 27-28, 2013. The #1 Worldwide SolidWorks Reseller, Hawk Ridge Systems is a leader in 3D design with an outstanding track record in bringing best-in-class engineering software solutions to the machining and manufacturing industries. In 2012, Hawk Ridge Systems added CAMWorks®, the first SolidWorks Certified Gold Product, to its product portfolio which brings native CAM integration to SolidWorks design capabilities.
"By bringing together the best of 3D design software with the most comprehensive CAM software on the market, Hawk Ridge Systems is able to deliver an integrated CAD/CAM solution to our customers." says Tim Fulton, CAMWorks Product Manager at Hawk Ridge Systems. "CAMWorks offers a viable solution for machining and manufacturing industries that allows users to leverage and automatically implement best practices, resulting in compliance, standardization, and time savings."
Hawk Ridge Systems is demonstrating SolidWorks and CAMWorks at the Northwest Machine Tool Expo in Booth 547 at the Oregon Convention Center on March 27-28, 2013. The Northwest Machine Tool Expo is a unique regional event for the machining and manufacturing industries. The goal is to provide an educational and networking forum for peers to learn about the newest innovations across the manufacturing industry.
About Hawk Ridge Systems
Hawk Ridge Systems is the leading source for innovation and product design, bringing cost-effective technology solutions to our customers that radically improve the way they design, develop, and manage their product development lifecycle. A pioneer in 3D design since 1996, Hawk Ridge Systems delivers engineering solutions with SolidWorks 3D CAD, Simulation, Product Data Management, SolidWorks Electrical, Technical Communication and CAM. Hawk Ridge Systems has 15 offices and training centers in the United States and Canada, serving over 20,000 SolidWorks users by providing sales, support, services, and training for SolidWorks and CAMWorks. Visit Hawk Ridge Systems and follow The HRS Blog. The Hawk Ridge Systems Store has complete listings for SolidWorks Training Courses and SolidWorks Solutions.