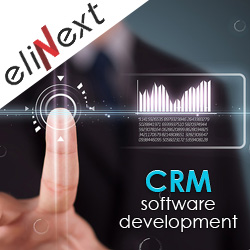 Custom CRM targeting specifically to your business can improve cross-sell and up-sell performance.
Waterford , Ireland (PRWEB) March 27, 2013
Being a successful customer-oriented company today means being equipped with an efficient CRM (Customer Relationship Management) system. Acknowledging the growing demand for CRM solutions in the enterprise market, Elinext Group announces that 2013 is the Year of CRM Universe and its mission is to build for businesses an efficient CRM Universe that includes not only key CRM modules but also surrounding satellites like AR, QR Code, NFC,... important for productive interactions with clients.
Solidifying customer engagement and loyalty is mandatory for consistently good performance. However, in today's tech-savvy marketplace not all companies are set up to address this challenge properly. For businesses that are looking for next-generation CRM systems, Elinext Group is a one-stop provider of quality IT solutions.
The major benefits a robust CRM system may bring to business include improved customer service, streamlined sales and marketing activities, additional cross-sell and up-sell opportunities, higher close rates, enhanced customer segmentation, reduced costs, and overall profitability. With CRM software from Elinext Group sales, marketing and management specialists can productively engage with customers and effectively collaborate with each other. Further, by leveraging detailed analytics companies get a 360-degree view of all the processes and better understand customer needs.
Gennady Sergeenko, Project Manager at Elinext Group, says, "When developing CRM software, we focus on both excellent code quality and user experience. Our solutions are defined by high reliability, flexibility, and security." In the hyper-connected world a CRM system is a key factor for securing long-term and strong relations with customers.
"To stay ahead of the competition, businesses have to focus on delivering amazing customer services. Therefore, customer satisfaction and retention is critical. At Elinext Group, we treat every CRM enquiry with care and thorough consideration. Our expertise in CRM solutions is based on over 15 years of delivering high-quality software development services to customers from the US, EU, and other locations," adds Vladimir Antonovitch, Elinext Group's CTO.
For more information, please visit: http://www.elinext.com/crm-software-development
Become our Fan on Facebook: http://www.facebook.com/elinext
Follow us on Twitter: http://twitter.com/elinext
Watch our video on YouTube: http://www.youtube.com/watch?v=Xu9aPX67hb4
Business inquiries: Eugene Grinkevich, IT Consulting Director, eugene.grinkevich(at)elinext(dot)com
About Elinext Group
Elinext Group is a global provider of custom software development and IT consulting services for a wide array of industries, including advertising, banking, e-commerce, finance, healthcare, hospitality, real estate, retail, tourism, telecommunications and others. Elinext Group's companies specialize in custom software development, mobile development, web development, TV app development and game development.