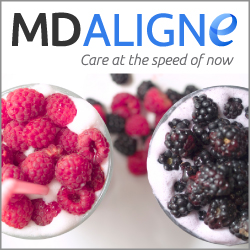 We are impressed with the Cornerstone Wellness approach creating a long term solution for success. - John Palumbo, President of MD Aligne
Conshohocken, PA (PRWEB) March 26, 2013
MD Aligne proudly announces the inclusion of the Cornerstone Wellness Weight Loss System to their suite of services. With this addition, MD Aligne expands upon their comprehensive health solution services, centered around telemedicine.
Under the guidance of their US licensed and certified nurses and physicians, MD Aligne customers can now participate in a medically supervised weight loss system that is both effective and safe.
The Cornerstone Wellness program is only available through physicians to ensure that patients are supported throughout the medical weight loss program. The process is designed to maximize fat loss, while preserving lean muscle. Cornerstone Wellness' unique combination of medical guidance, high-protein meal replacement shakes, and clinically-proven nutraceutical supplements are designed to reduce feelings of hunger and increase weight loss – leading to a high rate of success.
By adding Cornerstone Wellness to MD Aligne's telehealth services, MD Aligne has created an opportunity for countless customers who have previously been unable to locate a Cornerstone Wellness sponsoring physician. John Palumbo, President of MD Aligne is convinced that Cornerstone Wellness is a well-researched and carefully-developed solution to serious medical conditions, "Our physicians are trained and ready to recommend Cornerstone Wellness to customers suffering from obesity, metabolic syndrome, or diabetes. We are impressed by the Cornerstone Wellness approach to weight loss and their commitment to addressing the medical issues behind the condition – creating a long term path for success."
"The MD Aligne approach to healthcare solutions is the ideal environment for us to expand our weight loss products and service offerings to the consumer," states Jonathan Burg, MD, President and Founder of Cornerstone Wellness. "MD Aligne is in synch to what today's customers need – fast, safe and affordable response to their daily healthcare needs – and with their 24/7 model, our weight loss clients can benefit from round-the-clock guidance from a medical professional, even those who have limited or no insurance."
MD Aligne's telehealth model allows physicians the flexibility to focus on the whole patient: evaluate preventative measures, and give each patient the time and care they require. This availability creates a unique opportunity for both physicians and patients to work closely. As a result, MD Aligne physicians and nurses are able to monitor, support, and guide Cornerstone Wellness participants throughout the program and beyond. By adding Cornerstone Wellness to the MD Aligne suite of services, MD Aligne hopes to reach the millions of patients in need of such a successful program.
About MD Aligne
MD Aligne is a new and better way to get the professional healthcare you need when you need it. MD Aligne offers healthcare resources via the telephone or online providing safe, convenient, and affordable access to remote caregivers utilizing our digital platform. As a web-based consumer health solutions company, we deliver multi-device solutions for consumers to conduct health e-commerce for doctor consultations, medical advice and diagnosis, prescription and testing, and other healthcare supplies and therapies so our customers can manage their health, in their way, on their schedule.
According to a global survey, consumers are growing more comfortable with virtual doctor visits, with 70% of U.S. patients open to the idea and some studies are even showing better outcomes from telehealth than in person. For those health issues that do not require a face-to-face visit, our services are efficient and easy. Our digital and telephone doctor consultations give patients timely access to quality medical advice and the convenience of conversing with medical professionals 24/7, from home or work, reducing the total cost of the traditional medical office visit experience which is especially beneficial for those who have limited or no insurance. For more information, visit mdaligne.com or call 1-888-738-5574.
About Cornerstone Wellness
Jonathan Burg MD, President and Founder
After attending medical school at the University of Miami, Dr. Burg completed residencies in Internal Medicine at the University of Arizona and Physical Medicine and Rehabilitation at the University of Washington. He is published in the areas of neurochemistry and connective tissue enzymology. Dr. Burg lectures to physicians internationally in the areas of nutrition, obesity and practice development. Dr. Burg created Cornerstone Wellness in 2005 to provide a more practical, evidence-based and successful way for practicing physicians to manage the growing epidemic of metabolic syndrome due to overweight, obesity and other lifestyle issues. He formulated all the Cornerstone Wellness products with input from a team of Endocrinologists, Cardiologists and PhD dieticians. Dr. Burg is very hands-on and makes himself available at all times to consult with physicians, wellness coaches and even patients at their doctor's request.
Julie M. Weaver, Vice President and Co-Founder
Ms. Weaver's background extends over 30 years in sales/marketing and prior to the launching of Cornerstone Wellness, she spent 12 years working with an international nutrition company as a corporate trainer. The later included extensive speaking engagements. Ms. Weaver created the concept of training office staff to be wellness coaches within a medical practice to address weight concerns thereby freeing up physicians time. In addition to financial and marketing responsibilities, Julie oversees all training and support for physicians and their staff. Recognizing the unique needs of different medical groups based on size and demographics, the training and support is done by a highly qualified team of trainers in constant contact with herself and Dr. Burg.
For more information visit cornerstonewellness.com.
Contact:
Taylar Cooney
Corporate Administrator
Tel: 484.784.4560
mediarelations(at)mdaligne(dot)com