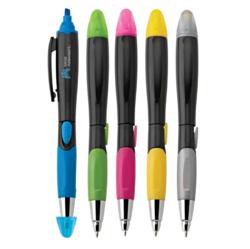 Vancouver, BC Canada (PRWEB) March 28, 2013
With over 35 years of experience in the promotional products industry, VancouverPens.com, as part of the 1234 PENS family of companies, has sold over one billion promitonal pens to thousands of satisfied customers. Promotional pens are remarkably effective marketing tools and this has been further demonstrated by a recent study released by Promotional Products Association International (PPAI), an international non-profit organization founded in 1904.
In its "The Influence of Promotional Products on Consumer Behavior" report, the PPAI found that promotional products like high quality logo pens were one of the most effective and most affordable marketing tactics that any company can use. Indeed, it was found that 88 percent of people who received a promotional product were able to recall the advertiser featured on the product. This ability to remember the brand is positively crucial for customer acquisition, as the customer must first remember the name of the company before they are able to do business with them.
Going even further, the PPAI study found that 85 percent of those people who received a promotional item went on to do business with that advertiser. It is particularly important that the promotional serves a very real purpose, as 81 percent of those polled kept the promotional products because they are useful. And custom-branded advertising pens from Vancouver Pens are incredibly useful and versatile for a wide range of users. Everyone could use a free pen. In fact, 53 percent of those polled in the PPAI study reported that they use the promotional products received at least once a week.
Serving the bustling business community of Greater Vancouver, VancouverPens.com has a long-standing tradition of offering high quality branded pens and an affordable price. Pens can be imprinted with company logos or custom messaging to suit the particular needs of each and every customer. VancouverPens.com extends its service well beyond Vancouver's suburbs of Richmond, Burnaby and Coquitlam into every corner of the province of British Columbia, as well as the rest of Canada.
VancouverPens.com is proud to offer free shipping to anywhere in Canada with pens starting as low as 31 cents per unit. For more information, call toll-free to 1-888-844-7367 or order online at vancouverpens.com.
About VancouverPens.com:
A member of the 1234 PENS family, VancouverPens.com has been in business for more than 35 years, helping more than 300,000 clients increase brand awareness and customer loyalty through their high-quality products. VancouverPens.com offers the lowest prices on all its customized promotional pens, and includes free express shipping on all orders to customers in British Columbia.