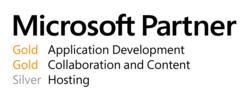 Arlington, VA (PRWEB) March 26, 2013
Buchanan & Edwards (BE) is proud to announce that it has achieved the Gold Collaboration and Content Partner competency from Microsoft. Earning this competency demonstrates BE's expertise in SharePoint-related technologies and solutions. BE has also reached the Gold competency level in Application Development, and the Silver competency level in Hosting.
The Microsoft Partner Network offers 25 competencies in six technology focus areas, enabling partners to demonstrate their capabilities within their specific, proven skill-sets, and differentiate themselves from their competitors. Achieving Silver in a competency is the first milestone in establishing a company's key strengths in a solution area, while achieving Gold identifies a company as a true thought-leader, proving depth of knowledge and expertise. Only the top 5% of Microsoft partners hold Gold competency awards. In order to be recognized as a Certified Partner, organizations are required to pass qualifying exams, provide customer references, and maintain certified devices and applications.
Microsoft SharePoint is one of BE's most popular service offerings for its federal clients. Achieving the Gold Collaboration and Content Partner level distinguishes BE as a credible industry leader for SharePoint services, and demonstrates BE's commitment to adapting with Microsoft's evolving technology environment.
For more information on the Microsoft Partner Network and the Microsoft Gold Collaboration and Content competency, visit https://partner.microsoft.com.
###
About Buchanan & Edwards:
Buchanan & Edwards (BE) is an information technology and professional services consulting firm, which provides clients with customized technology solutions and organizational management services to ensure mission success anytime, anywhere.
Serving the federal sector for 15 years, we base our solutions on an in-depth understanding of our clients, their mission, and the unique challenges they face. BE is a Microsoft Gold Application Development and Collaboration and Content Partner, the winner of the 2011 Small Business of the Year Award for the US Department of State and a three-time Inc 500│5000 awardee.
BE employs a disciplined management approach that has been independently appraised as compliant with CMMI Level 3 processes and ISO 9001:2008 standards. For additional information, please visit our website at http://www.Buchanan-Edwards.com.
About the Microsoft Partner Network:
The Microsoft Partner Network equips Microsoft partners with the training, resources and support they need to successfully compete in today's marketplace and allows customers to easily identify the right partner for their technology needs.
About Microsoft's Worldwide Partner Group:
Microsoft invests in the success of its partner channel and more than 640,000 organizations make up Microsoft's partner ecosystem. Partners have been instrumental to Microsoft's success over its 33-year history, and they have come to rely on Microsoft for the products, technology, tools and resources that enable them to create profitable and unique businesses. Additional information on the Microsoft Partner Network is available at https://partner.microsoft.com.