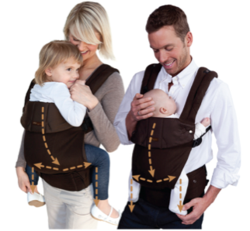 West Des Moines, Iowa (PRWEB) March 26, 2013
Bliss Baby & Maternity is proud to be carrying the líllébaby COMPLETE Baby Carrier. With a Scandinavian foundation, the líllébaby brand has from its very conception been true to these roots and shown a warm passion for combining functionality and style. Resonating the Scandinavian values of quality of life, honesty, and a love for nature's beauty, líllébaby strives to make baby products that bring this functional style to parents, anywhere. The wish is for parents to attain the simple luxury of keeping baby close while building a natural bond, in perfect comfort and style.
The líllébaby COMPLETE can be worn various ways depending on how old the baby is. The carrying positions are Front Carry – Fetal Hold, Front Carry-Face In, Front Carry-Face Out, Hip Carry, and Back Carry.
In the fetal hold, baby is mimicking the way she was positioned when she was in the womb. It is a comfortable and cozy position that gives maximum closeness with baby.
During their first few weeks, newborns maintain the position they had in the womb - the fetal position - with clenched fists; bent elbows, hips, and knees; arms and legs pulled up in front of the body.
The front carry position is ideal for supporting baby's neck and allowing baby to doze off and fall asleep. The adjustable seat facilitates a frog-leg position with the legs naturally spread apart for both infants and older babies.
The forward facing carrying position is often referred to as the "learning-enhancing" position as it is ideal for facilitating learning and development, as well as satisfying baby's endless curiosity.
The hip carry position is ideal when baby is a little older and the front carry becomes too heavy. The hip position makes it easier to do tasks that would otherwise be difficult with a baby on front.
The back carry position is ideal for carrying heavier weight and puts less pressure on lower back.
The líllébaby COMPLETE gives all the carrying positions, however, only one can be used at a time. Focus on the one(s) that apply to baby's age and get comfortable with one carrying position before trying a new one. This carrier will grow with the baby's changing needs all the while making it comfortable for both mom or dad and baby.
These carriers are great for summertime, vacations, and shopping. This carrier comes in a variety of fun and practical colors. For all your baby carrying needs, please visit http://www.blissbabyandmaternity.com.