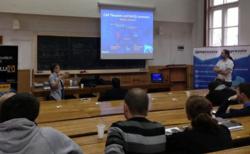 We are positive about the concept of the Cluj IT Cluster and as the Cluj IT Innovations Days event was a real success, so we are certain that in time we will achieve all of the Cluster's goals.
Spokane, WA (PRWEB) March 28, 2013
As signs of spring began showing in the technopolis of Cluj-Napoca, a new initiative of the Cluj IT Cluster was born: Cluj IT Innovation Days--meant to strengthen the local IT community and develop business relations with international partners.
Imprezzio Global, a subsidiary of US-based Imprezzio Inc., is one of the main organizers of the event. Since 2008, Imprezzio's European branch has specialized in enterprise cloud-based applications, software as a service, mobile applications, existing-system integration, contact and marketing management and embedded hardware solutions.
Cluj IT Innovation Days kicked off March 20 with speeches by US Embassy delegates and Romanian government representatives and a keynote address by Jean-Michel Corrieu, Director of IBM's Business Solution Center in La Gaude, France.
During the "technology" portion of the event on March 21, Imprezzio Global's Architect Nazmi Savga and Lead Developer Agota Radoi Riger gave a presentation entitled "Is NoSQL the Sequel to SQL?" Other experts included staff from Microsoft Romania, CISCO, IBM Romania and professors from the Technical University of Cluj-Napoca and Babes-Bolyai University.
Why the City of Cluj?
Over the decades following World War II, the second-largest city in Romania has steadily built itself into "the Silicon Valley of Eastern Europe." Cluj currently boasts 100,000 square meters of office space along with a network of 64,000 km of optical fiber to support the 1,000+ IT&C companies registered there.
Recently, Imprezzio Global helped found the Cluj IT Cluster, a group of businesses and public institutions with over 20 years' worth of experience in providing IT outsourcing services and products to customers worldwide. The Cluster boasts combined revenues of approximately 100 million Euros and a total of 3,500+ skilled IT specialists and support staff. Its goals include:

promoting the "Cluj IT" brand in Romania's public sector and internationally
developing Cluj Innovation City, a 300 million Euro Community Project, meant to create an innovation area that will attract over 20,000 IT specialists in the next 15 years
investing in R&D
providing entrepreneurial plan development for start-ups
creating diploma-program internships and improving the tech skills of high school and university graduates
working with government entities to promote best practices in IT services
making Cluj IT Innovation Days an annual event
becoming one of the most trustworthy IT service provider groups in Eastern Europe
Says Tudor Armand Ciuleanu, Imprezzio Global's Managing Director, "We have invested a lot of time and effort in the Cluj IT Cluster. With the support of the US Embassy and the Romanian Ministry of Development, we hope to increase brand awareness in local and global markets and succeed in accomplishing multiple R&D projects.
"We are positive about the concept of the Cluj IT Cluster and as the Cluj IT Innovations Days event was a real success, so we are certain that in time we will achieve all of the cluster's goals."