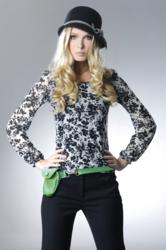 Fanny Packs hit the RunWay
Las Vegas, NV (PRWEB) March 29, 2013
Hipzbag®, the only "hands free" cell phone waist bag, designed with fashion and function in mind for today's modern woman, has listened to its customers and is excited to bring new colors and stylish designs for spring. The new collection, launching April 1, 2013, features fresh styles including a suede fringe bag and a cushion bag with a fashionable bow.
The Hipzbag® is a modern, cooler take of the fanny pack popularized in the early 1980. Today's hipper, fashion-forward incarnation is perfect for a day at the beach, out shopping, or weekend errands around town.
Designed to ride on your hip, by attaching to your belt loops or a thin waist strap, Hipzbag® features a zippered compartment in the front, perfect for carrying money, keys, iPods, cell phone, etc.
"Launching with spring are some of my favorite bags yet," said Hipzbag® designer Kathy Crifasi. "We were really listening to our young customer with the suede bag. This bag has casual fringe which lends to different occasions and outfits. We also heard our more curvy customer and added bags with longer waist straps.
Currently, the Hipzbag® brand has a modest price tag so that they would fit most budgets. Our customers are asking for leather, so a higher end bag might be in our future. "Stay tuned", adds Kathy.
About Hipzbag®
Creator, Kathy Crifasi, computer nerd by trade, created the Hipzbag purely out of necessity. Walking around holding her cellphone, wanting it to be attached to her body—Kathy could not find a solution, so she designed one! Hipzbag® is a product of Hip Shift Corp, a company bringing to market functional fashion products for the everyday woman. Shop the new line on http://www.MyHipzbag.com.