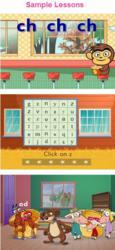 Online reading lessons and games can help children develop core literacy skills
San Francisco, CA (PRWEB) March 26, 2013
Making learning to read fun, providing help when needed and introducing children to basic literacy skills at home will help children succeed once they begin school. These are some of the points Reading Eggs, the purveyor of a popular online reading program for children aged 3 to 13, spotlights in its new article on the importance of pre-school literacy development to future success at school.
The article advises parents to start teaching their children basic reading and literacy skills at home, including the alphabet, phonemic awareness and a familiarity with books. Parents are further encouraged to engage their children in regular conversation – one of the most effective ways to help develop their verbal skills and build their vocabulary.
In order to guarantee future reading success, parents are advised to closely monitor their child's reading progress to ensure any reading difficulties they experience are detected early. Ensuring an enjoyable learning environment in which a child can regularly practice their reading is also highlighted as essential for pre-school literacy success. The article also provides parents with an overview of the literacy skills the Reading Eggs online program targets to prepare children for school.
More info at: http://readingeggs.com.au/articles/the-complexity-of-reading-for-children
About Reading Eggs
Developed by educators with over 25 years' experience, Reading Eggs online lessons instruct children in the five areas crucial to literacy development – phonemic awareness, phonics, vocabulary, fluency and comprehension. Reading Eggs focuses on a core reading curriculum of skills and strategies essential for sustained reading success and is suitable for children aged 3 through 12. Since launching in the United States and Canada in 2011, Reading Eggs has signed on more than 500,000 subscribers and presented more than 15 million lessons in North America.