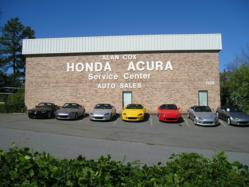 Our ASE and manufacturer certified technicians strive to provide the best in service and repairs for our customer's vehicles from manufacturers such as Acura, Honda, Toyota, Lexus, Mazda, Kia and Hyundai
Marietta, GA (PRWEB) March 26, 2013
Drivers may have heard that April is Car Care Month, but at Atlanta Auto Repair experts, Alan Cox Automotive in Marietta GA, they are announcing that every month is Car Care Month. The Car Care Council sponsors the annual event to get car owners to make a special effort to look at their car's condition. At Alan Cox Automotive they believe that looking at your vehicle only once a year is not enough to ensure a reliable and safe operation, so they assess the condition of a vehicle every time it comes into their shop. That is why Car Care Month is every month of the year at this AAA Approved Auto service center.
When a customer brings their car to Alan Cox Automotive for service they get a free assessment of the current road worthiness of their vehicle. This includes every Acura, Honda, Toyota, Lexus, Mazda, Kia and Hyundai that comes into the shop. There are some basics to keeping a car ready for safe operation which the expert technicians at Alan Cox Automotive look for including: regular oil changes, tire inspections/rotations, brake inspections, inspection of the shock absorbers and struts, fluid levels, wiper blades and interior and exterior lighting. This inspection lets their customers know the condition of their vehicle and what should be done to ensure safe and reliable operation.
Sherry Richardson, owner of Alan Cox Automotive commented on the annual Car Care Month, "We are focused on the safety of our customer's cars, and just looking at your car once a year is not enough to ensure it is safe to operate. We know that most of our customers are not car experts and are often too busy to take the time to evaluate the condition of their vehicle. That is why we look them over carefully from bumper to bumper when they come into our shop. All it takes is a bad tire, weak battery or worn brakes to result in a roadside breakdown or accident. We can identify a problem that is just emerging or a maintenance issue that needs immediate attention to ensure the vehicle is safe for the road. Our ASE and manufacturer certified technicians strive to provide the best in service and repairs for our customer's vehicles from manufacturers such as Acura, Honda, Toyota, Lexus, Mazda, Kia and Hyundai."
Alan Cox Automotive has been in business since 1983 and specializes in Asian import vehicles. They are located at 1326 Cobb Parkway North in Marietta, GA and are open Monday through Saturday. They provide most levels of service and auto repair, as well as a full tire center to accommodate customer's service needs. To schedule a service or repair, Alan Cox Automotive can be reached by phone at (770) 427-1745 or by email. Website and web marketing provided by Atlanta SEO Company, Interactive Search Marketing.