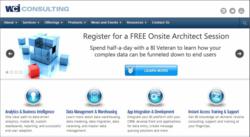 We're dedicated to simplifying end user adoption of BI systems and the new layout allows for increased accessibility of business intelligence resources
DALLAS, TX (PRWEB) March 26, 2013
WCI Consulting has redesigned the look and feel of their website to showcase the kinds of information clients and potential customers are interested in. The new website features menus and headings specifically designed for those looking for business intelligence consulting and data warehousing. "We wanted a website that could communicate the full breadth of what WCI has to offer," said Marty Carney, CEO of WCI Consulting. "We're dedicated to simplifying end user adoption of BI systems and the new layout allows for increased accessibility of business intelligence resources."
With over 30 informative webinars in WCI Consulting's portfolio, one of the benefits of the new site is the categorized SAP Business Objects video tutorials. "The internet hosts a wealth of information in the BI sector, and a big goal for us is to share all this knowledge we've been storing since 1998," noted Marty.
The redesign correlates with WCI Consulting's commitment to innovation. With new offerings like BI Online Training through Instant Access, WCI has secured its position in the BI consulting space as an online solutions visionary.
About WCI Consulting:
WCI Consulting focuses on mastering the technology and tools essential to business intelligence and applies the most effective and appropriate solutions to help clients turn data into valuable business information.
SAP Logos and Trademark:
SAP and all SAP logos are trademarks or registered trademarks of SAP AG in Germany and in several other countries. Business Objects, BusinessObjects and the Business Objects logo are trademarks or registered trademarks of Business Objects in the United States and/or other countries. Business Objects is an SAP company. All other product and service names mentioned are the trademarks of their respective companies.