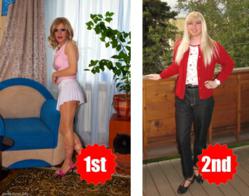 We had a lot of great feedback last year and expect even better entries this year.
Fairfield, NJ (PRWEB) March 26, 2013
GlamourBoutique.com, an online retailer that helps find the perfect body shaping, beauty and fashion products for male to female transformations has announced their 2013 Glamour Girl Picture Contest. In the past, the Glamour Girl Picture contest has seen a large number of crossdressing entries from around the world.
The 2013 contest is officially open and looking for entries. Entering requires participants to submit well lit, full-length posed pictures that are clear and show full beauty and potential. This year brings the addition of another category to the contest, allowing for more winners and more prizes to be given away.
"We had a lot of feedback last year from a lot of the more mature ladies who would like to see another category added just for them," says store owner David Borrows. "Last year the Cougars represented 40 years and above, which is extremely broad. To be fair and more accurate we've added a Super-Cougars category this year that represents the over 60 crowd."
Known for their life-like breast forms, GlamourBoutique.com have been a huge supporter and supplier for the transgender community since 1996. The Glamour Girl Picture Contest is the company's way to give back to the community and allow them to show their most glamorous assets for the chance to win a variety of silicone breast forms prizes.
"We had a lot of great feedback last year and expect even better entries this year," says Borrows.
The submission period is open until midnight, April 19th 2013. The Glamour Girl Picture Contest is open to anyone 21 years or older. Send your most glamorous male to female transformation full-length pose to picgb2013(at)yahoo(dot)com for your chance to win a variety of amazing prizes. For more information and rules please visit the official contest page.
About GlamourBoutique.com
GlamourBoutique.com started in 1996 as an eCommerce site selling mastectomy breast forms and clothing. Along with selling realistic breast forms to mastectomy patients, Glamour Boutique has been a great supporter of the transgender and crossdresssing community. Supplying the best selection of beauty products for male to female crossdresser transformation, GlamourBoutique.com has become a wildly popular destination for the best beauty and transgender accessories. Noted for having star quality customer service, GlamourBoutique.com is committed to offering high quality merchandise at the lowest prices possible both online and from its Las Vegas, NV and Fairfield, NJ locations.