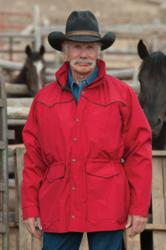 When I'm designing new styles, I try to cover all of our categories and price points so there's something new for every customer.
Mesilla Park, NM (PRWEB) March 27, 2013
Schaefer Ranchwear, one of the last American made clothing companies in the U.S. has just topped 100 styles with the Spring introduction of their new RangeTek Collection and several new vests, jackets and shirts.
Over the past six months Schaefer Ranchwear has been diligently pursuing several new styles to introduce to the marketplace by Spring 2013. The new additions cover the whole spectrum of Schaefer including a high-tech waterproof breathable collection called RangeTek, Canadian Melton wool outerwear and vests and a never seen before shirt style constructed out of both 7.5 oz. denim and 80's 2-ply pima pinpoint called the Vintage Taos. "This is an exciting time for our small family-owned company and fresh new product helps fuel the fire after coming off of the best year in its 30 years of business," according to Rick Grant, owner.
"When I'm designing new styles, I try to cover all of our categories and price points so there's something new for every customer. We definitely accomplished that this time around with new products and color additions ranging in price from $80-$275 price points." The RangeTek Collection features waterproof breathable shells with stormproof collar and built-in hood designed in both insulated and non-insulated bombers, drifters, parka and vest silhouettes. Canadian Melton wool has been a mainstay in the Schaefer line for years and 2013 is no exception. The new Arena Jacket features a zip-up storm collar, premium nylon lining, clean finished tailoring throughout and Schaefer running horse embroidery on the back collar is expected to be one of Schaefer's best sellers for 2013 based upon the overwhelming sales response so far.
New product forecasts for production additions in Fall/Holiday 2013 is expected to be just as aggressive with a very large introduction of bottoms including Schaefer's Original RanchHand dungarees produced in several different heavy-duty fabrics including Fenceline canvas and Legacy Melton Wool. Grant, said there will be an additional two styles introduced featuring 9.5 oz. cotton twill fabric used in their trousers. "My goal is to increase our bottoms production in order to maintain a competitive Made in America price point. We starting to hear rumblings of cotton prices increasing again due to China production, so we have to develop other areas of efficiency to offset those coming increases."
Grant attributes their success not only to their made in America roots, but their commitment to quality and timeless, traditional styling; "They go hand in hand, our customers expect the best and that's what they get. There's not a day that goes by, where a customer doesn't write and call us to thank us for our American quality," according to Grant. Technology doesn't hurt either. Schaefer maintains a state of the art web site (SchaeferRanchwear.com) with lifestyle video links, monthly e-mail specials and distributes an annual catalog to its customers capturing lifestyle images of working cowboys and outdoorsman wearing Schaefer products throughout the Rocky Mountain region.
Schaefer Ranchwear is one of the last brand name manufacturers who design and produce premium Ranchwear and Outdoor clothing exclusively in America.