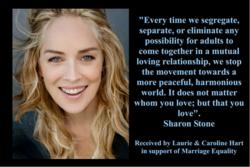 Every time we segregate, separate, or eliminate any possibility for adults to come together in a mutual loving relationship, we stop the movement towards a more peaceful, harmonious world. it does not matter whom you love; but that you love.
Port Charlotte, FL (PRWEB) March 26, 2013
EnGAYged Weddings and most eyes are on "SCOTUS" (Supreme Court of the United States) taking up two landmark cases starting today with Proposition 8 and tomorrow with the "DOMA" (Defense of Marriage Act) case. What are the implications of both cases.
For Laurie & Caroline Hart these cases are bigger than Marriage Equality. You see, They have already been Legally Married since July of 2006 in a Hawaiian themed wedding with their three sons in attendance. Read their full story HERE
So what's the problem? Caroline is not a U.S. Citizen. LGBT Couples like Laurie & Caroline have a new title, it's called "Bi-National Families". Caroline is still considered a citizen of the United Kingdom. Because the US Federal Government does not recognize Same Sex Marriage, Caroline does not qualify to become a "lawful permanent resident".
With any straight couple marrying a non-citizen, that does not mean that the spouse is automatically a U.S. citizen, the process takes between 12 to 18 months, but in Laurie & Caroline's case they can't even start the process until DOMA is struck down.
Caroline is concerned about her immigration status and it is an issue that is constantly on her mind. Caroline Says, " At the moment we are facing such a critical time, everything hangs in the balance until the result if the Supreme Court's ruling on DOMA. We want and deserve our marriage to be recognized just like any other couple , we hope that in June we will be celebrating the right result and that Laurie will be able to apply for a green card form me, her wife, and that we won't have to worry about our future together."
The support for Same-Sex Marriage is growing faster than we ever expected, with support from Barack Obama, Hilary & Bill Clinton and most recently from Missouri Sen. Claire McCaskill.
Laurie & Caroline have also been working with the "DOMA Project". THE DOMA PROJECT is a campaign launched in October 2010 by a group of married Bi-National couples working with attorneys Lavi Soloway and Noemi Masliah, who are founders of Immigration Equality and partners in the law firm, Masliah & Soloway. The campaign's purpose is to raise awareness of the cruel impact of the Defense of Marriage Act (DOMA) on married gay and lesbian bi-national couples and to bring an end to that discrimination. Because the federal government denies recognition to legally married same-sex couples, such couples are deprived of the usual access to immigration laws that allow all other American citizens to petition for a green card for their foreign spouses. In most cases, DOMA is the only obstacle preventing married Bi-National couples from achieving resolution of the immigration issue.
EnGAYgedWeddings.com spoke to Derek Tripp of the DOMA Project. Derek Said, "The DOMA Project is mostly an information and advocacy group providing Pro Bono Attorney's fighting to stop deportations, separations and exile of Gay and lesbian Bi-National Couples caused by the Defense Of Marriage Act and U.S. immigration Law." To learn more about The DOMA Project click HERE
Laurie & Caroline are also enjoying the global support they are receiving,
Adam Shankman (film director, producer and choreographer) "Lovely to meet you as well. I'm so sorry for all the hardship. Take heart. We will get this done."
Nigel Lythgoe (SYTYCD & American Idol Producer) "I'm sorry, I personally don't believe whoever you fall in love with should affect your rights as a human being."
Sam Champion (Good Morning America) " NO one in THIS country should face the kind of discrimination you are facing...I'm Sooooooo very sorry."
Sharon Stone (Actress) "Every time we segregate, separate, or eliminate any possibility for adults to come together in a mutual loving relationship, we stop the movement towards a more peaceful, harmonious world. it does not matter whom you love; but that you love."
Elizabeth Vargas (ABC News Anchor) "I wish you nothing but absolute happiness xo."
Congressman Jerry Nadler "We are working hard to pass UAFA for you and your wife and thousands of Bi-National families."
Martina Navratilova (Tennis Champion) "You go girls. One day we won't have to fight."
Jason Alexander (Actor) "This story needs telling. Laurie I believe you are 1 generation away from this stupidity being done." "Good luck Laurie, sorry for the heartache."
Billie Myers (Singer/Songwriter) "And this is why we fight…you're on the right side of history…never forget." "Are you kidding it's appalling we are even needing to still engage this ignorance."
Sarah MacLochlan (Singer/Songwriter) "Everyone Deserves a happily ever after, please keep me posted."
and the list goes on... Suez Orman – Emmy Award Winning TV Show Host, Clive Davis – Sony,
Kate Walsh – Actress. Jullianne Moore - Actress, Patty Duke - Oscar Winning Actress, Fran Dreschner - Actress, Debra Messing – Actress , Tie the Knot Org – Jesse Tyler, Billie Jean King - Former world #1 tennis legend, Leann Rimes – Singer, and Bonnie Raitt - Singer.
If you would like to show your support for Laurie & Caroline Click HERE