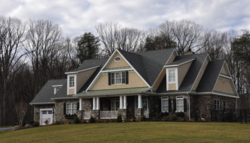 Virginia custom home builders provide buyers with unlimited possibilities to create a home that is designed exclusively for their lifestyle, often for about the same price as a production or resale home
Haymarket, VA (PRWEB) March 27, 2013
Home builder High Ridge Homes has announced a strong start to 2013 with several luxury custom homes currently under construction. The Northern Virginia custom home builder, which specializes in homes from $600,000 to $1,000,000, has experienced a sharp increase in demand in 2013 from buyers who are looking for a personalized approach to building a new home.
According to High Ridge Homes Vice-President Tom Swigart, move up buyers are taking advantage of current market conditions to upgrade from their current home to a larger, more energy efficient, and more amenitized custom home.
"We can see a strengthening in the Northern Virginia market, and this means that move up buyers have more options than they did even one year ago. The combination of a stronger market, combined with historically low prices and interest rates, is giving buyers a limited window of opportunity," says Swigart.
The home builder's current custom homes that are under construction include a 5,000 square foot country farmhouse on 3 acres in Middleburg surrounded by farmland and historic battlefields. Features of the home include balconies for every bedroom, a two level front porch, and a bow window that offers panoramic views of neighboring farmland. According to Swigart, this trend toward personalized design and premium locations is enticing more and more buyers to consider building a custom home than ever before.
"For many of our buyers, customization is key. Typically they are sophisticated buyers who have already purchased several homes, and they simply don't want to compromise on getting the exact home that they want in the location that they want. As the market strengthens, buyers are finding that home builders may be less willing to make custom changes. Virginia custom home builders provide buyers with unlimited possibilities to create a home that is designed exclusively for their lifestyle, often for about the same price as a production or resale home," says Swigart.
To assist home buyers, the company offers a variety of online tools to design and plan a custom home. Buyers can visit the company website to download a free custom home planning guide, browse a database of thousands of photos to inspire design ideas, and access custom home checklists.
To schedule an initial consultation about building a custom home in Northern Virginia, contact Tom Swigart at (703) 754-9893 or request a consultation online at http://www.highridgeva.com
About High Ridge Homes
High Ridge Homes is a second generation home builder specializing in luxury custom homes throughout Northern Virginia. With more than 40 years of homebuilding experience, High Ridge offers high quality construction and a personalized design approach to create some of Northern Virginia's most distinctive luxury homes. Visit High Ridge Homes online at http://www.highridgeva.com.