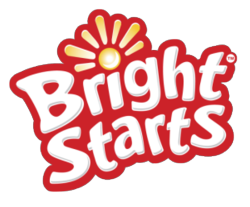 Our online following has grown continuously because of the kind of content we produce.
(PRWEB) March 27, 2013
Social media is becoming an increasingly competitive space for businesses, but baby product manufacturer Bright Starts seems to have its strategy down. The company, which designs everything from baby toys to activity gear, hit 100,000 likes on Facebook last week.
Bright Starts is a rapidly growing flagship brand of Kids II, an innovator in the baby products market. The products that Bright Starts produce have to pass a double standard: they must delight babies, and deliver a high level of value to parents.
Angela Duggan, Marketing Communications Manager, says the company takes the same approach to its social media content.
"Crossing 100,000 likes was a major milestone, but we knew it was coming," said Duggan. "Our online following has grown continuously because of the kind of content we produce. We make it amusing and relevant to parents."
Typical examples from Bright Start's Facebook feed include parenting-related trivia paired with bright pictures, contest announcements, and open-ended questions inviting parents to share their own ideas, experiences or specialties.
"It's pretty rare to see an ad on our Facebook stream, and that's why we're so popular," Duggan said. "It's not just the photos we use. Our message is, 'Here, we thought you'd think this was cool, what do you think?'"
The approach seems to be working: as of this release, Bright Starts has already broken 102,000 and is heading quickly toward 103.
ABOUT BRIGHT STARTS™
Bright Starts™ is a brand of engaging, fun baby and infant products that provides parents with affordable, fresh solutions. With a growing portfolio of over 100 activity centers, play gyms, bouncers, swings, playards, and toys, Bright Starts™ large selection of playful products are designed to delight babies and engage toddlers. Backed by awards from numerous leading industry and consumer organizations, Bright Starts™ is a trusted name for cleverly-designed, quality products for young children.
Headquartered in Atlanta, Georgia, Bright Starts™ is the flagship brand for Kids II, Inc., manufacturer, designer and marketer of toys and baby gear. Visit http://www.brightstarts.com
ABOUT KIDS II, INC.
Kids II has been inventing and reinventing baby and infant toys and gear for more than 40 years and has quickly become one of the world's fastest growing baby product companies. Headquartered in Atlanta, Kids II spans globally with operations in six continents serving customers in more than 70 countries. Driven by innovation, design and a comprehensive brand portfolio, Kids II is the next generation leader of infant and toddler products.
Kids II designs, markets and distributes more than 400 unique infant and toddler products, selling more than 22.8 million items per year. On average, it launches 125 new products a year. Under its flagship brands, Kids II has produced more than 100 award-winning products.
The brand portfolio strength runs deep under the Kids II umbrella, which includes its signature brands Bright Starts™, InGenuity™ and Comfort & Harmony™, as well as licenses to design and manufacture products for Disney™, Baby Einstein™, Rhino Toys™ and Taggies™.
Kids II's international affiliate operations are located in Australia, Canada, Europe, China, Hong Kong, Japan, Mexico and South Africa. Visit http://www.kidsii.com