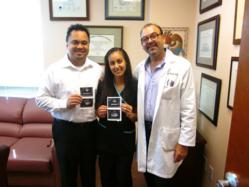 The deciding factor for us was the reaction from our patients and the infertility community. Even those who did not win believed we were doing the right thing and felt that the contests helped them heal.
(PRWEB) March 26, 2013
April 21-27 is Infertility Awareness Week.
One in every eight couples can't do something most take for granted – have a child. Access to treatment is the biggest issue. It is estimated that of the two million people in the U.S. who need IVF, less than 200,000 (10%) can afford the $10,000 per cycle cost.
To meet this need, Sher Fertility Institute will host four educational seminars in cities across the United States, each culminating with a drawing for a free IVF treatment cycle. The fourth and final seminar will be in Las Vegas on April 23rd which coincides with National Infertility Awareness Week.
In total, SIRM will be donating seven cycles at these four events, bringing the total to more than 50 donated cycles over the past three years. Sher Fertility also donates treatment through the non-profit foundation InterNational Council on Infertility Information Dissemination (INCIID) Infertility Information http://www.inciid.org/ as well as through Facebook Contests.
At seminars, couples enter a lottery-type random drawing to win. Through Facebook, couples must submit their own videos detailing why they deserve the donated cycle. Many are heart-wrenching and highlight the need for better access to fertility treatment.
Critics say these cycle donations are the ultimate form of manipulation; a marketing ploy that capitalizes on the deep, unfulfilled desire to be a parent.
But try telling that to the families who made their dreams come true through these donations. Families like the Lyons' in Westchester NY who gave birth to twin girls in November; or the Mitchells in Dallas who have their miracle baby Sophie; Or Ana Nicolas in Las Vegas, due in May with boy and girl twins.
"Are we aware that this may be perceived as a publicity stunt?" said Geoffrey Sher, MD, founder and Executive Medical Director for the Sher Institutes. "Of course we are, and we considered the ramifications of this carefully for several years before deciding to offer our first free donations in 2010. But the deciding factor for us was the reaction from our patients and the infertility community. Even those who did not win believed we were doing the right thing and that the contests helped them heal."
In addition to information for people just starting to explore infertility treatment, the seminars will have information for those who are seasoned veterans. "We are confident that everyone who attends will gain something they didn't know or weren't aware of before," said Sher. "There are many opinions on infertility treatment – even among doctors in the field – and our goal is to provide some information that will help empower each person in attendance."
About the Sher Institute for Reproductive Medicine (SIRM)
The Sher Institute is a national network of fertility clinics specializing in cutting-edge technology, personalized treatment and compassionate care. Through their "Giving Back" program, they have donated hundreds of free fertility treatments to deserving couples and have helped many women freeze their eggs prior to cancer treatment. There are 8 Sher Institute locations across the United States including fertility clinics in New York City and Westchester, NY; Dallas, TX; Las Vegas, NV; St. Louis, MO; Peoria, IL; Asbury, NJ and Bethlehem, PA. All Sher Institute offices operate under the same standards and protocols.