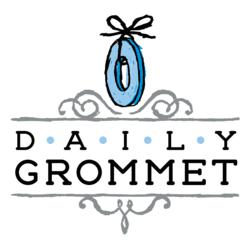 Daily Grommet is proud to feature HOT GIRLS PEARLS as an innovative, stylish way to keep cool.
Lexington, MA (PRWEB) March 26, 2013
Daily Grommet, an online shopping site and product launch platform for innovative and undiscovered products is working with fashion professional to feature HOT GIRLS PEARLS, stylish body-cooling jewelry. Daily Grommet is proud to feature HOT GIRLS PEARLS as an innovative, stylish way to keep cool.
Constance Sherman used to open the freezer to find relief from hot flashes, and it was there that she found her inspiration for HOT GIRLS PEARLS, a line of body-cooling jewelry. HOT GIRLS PEARLS' necklaces and bracelets are made with "pearls" that contain the same nontoxic gel that's in ice packs.
Constance designed the new jewelry as a fashion-forward remedy for people with menopause symptoms, but that's not the only crowd that feels hot and bothered. HOT GIRLS PEARLS are a cool treat for expectant mothers who get uncomfortably hot during pregnancy. They can also provide relief to people who suffer from medical conditions that cause heat intolerance. On a steamy summer day, or during a round of golf -- there are many scenarios where a little cool-down goes a long way.
HOT GIRLS PEARLS offers necklaces, bracelets, and an insulated travel purse that keeps the frozen jewelry cool until it's ready to wear. The frosty pearls stay cold for 30-60 minutes, on average. The look is classic, and the body-cooling function is discreet.
About Daily Grommet
Daily Grommet is a highly curated online marketplace and launch platform for products of great utility, style or invention that haven't hit the big-time yet. Daily Grommet seeks out these unique products, carefully tests them, and produces a video review of each one telling the story behind its creation. Daily Grommet is rooted in the philosophy of Citizen Commerce whereby regular people form the commerce experience by suggesting products that reflect their values and interests. Citizen Commerce turns the typical top down retailer approach sideways, encourages global product innovation from small producers, and satisfies the consumer's need to know the stories behind and origins of favorite products. The company was also just named one of the hottest sites of 2013 by Internet Retailer. For more information, visit http://www.DailyGrommet.com.