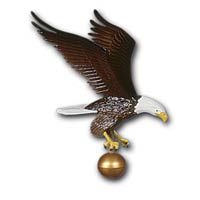 ...chafed ropes can be replaced before it's too late, avoiding other breakage at the same time.
Atlanta, GA (PRWEB) March 26, 2013
Spring is about renewal and with its well-stocked inventory, the Flagpole Warehouse offers perfect repair and updating solutions for chafed, worn or stressed flags, ropes, cables, flagpole parts, or components for either residential or commercial flagpole systems.
Celebrate spring by topping a flagpole with a new gold ball or eagle ornament. Reasonably priced and available in aluminum black, white, bronze, silver, gold or even copper gold leaf, these signature ball ornaments add a particular cachet. Flying eagle ornaments available in gold or natural add a very distinguished finish to poles. A specialty cleaner sold in one quart bottles and affordably priced, is also highly recommended for removing dirt, grease, mildew, oxidation and grime from anodized or bare aluminum flagpoles, or aluminum hardware, giving a new shine for spring.
Since it is always wise to prevent accidents with proper maintenance, the Flagpole Warehouse's full selection of ropes guarantees that chafed ropes can be replaced before it's too late, avoiding other breakage at the same time. When accidents do happen, the Flagpole Warehouse's over 75 external hardware items available for commercial flagpole systems, and an additional 66 or more for residential systems, can cover just about every need fast. With the convenient online ordering system and next day shipping, damaged equipment will be replaced and back in working order as soon as possible.
The Flagpole Warehouse can also accommodate special requirements, custom flagpoles, or custom configurations through telephone or email, by providing experienced, knowledgeable advice and suggestions for the best possible solution.
Fly flags proudly on new or upgraded equipment, getting the summer season off on the right foot thanks to some good spring in your step.
About The Flag Company, Inc.
As the largest online flagpole supplier, The Flag Company, Inc. offers a complete range of flags and flag-related products in addition to its line of flagpoles and signature Flagpole Beacon. Custom screen-printing and digital printing are available for special events, corporate logos, etc. Stock merchandise includes U.S., state, international, and military flags, and all types of accessories such as bunting, memorial cases, pennants, and more. The Flag Company, Inc. is the nation's largest producer of message flags, offering over 300 different messages used by realtors, restaurants, car dealerships, and any other kind of company imaginable. Toothpick flags—both stock and custom-made to order— are also available. The complete product line can be viewed at http://www.flagco.com. "Feel Good Light-Ups," a decorative light lens for fluorescent light fixtures, are now so popular there is a dedicated website at http://www.feelgoodlightups.com. Flagpoles and Flagpole Beacons are featured at http://www.flagpolewarehouse.com. Toothpickflag.com has a wide selection of toothpick flags for any occasion, party or corporate event, with a custom department for that one-of-a-kind special design.