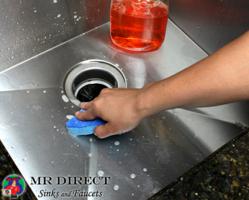 Proper care and maintenance of a stainless steel sink will ensure it's lasting function for years.
Toledo, OH (PRWEB) March 28, 2013
Obtaining the perfect sink, in any kitchen, does not end at installation. Proper care and maintenance of a stainless steel sink will ensure it's lasting function for years. Stainless steel is a very durable material, but not completely maintenance free. Knowing the proper care instructions will help to keep the sink's sturdiness and luster in tact.
Stainless steel is a metal alloy created from a combination of materials that make each sink 'stainless.' If the sink's surface is left with a layer of water or food debris, the natural protective layer of stainless steel may become susceptible to stains and discoloration.
For general cleaning, rinsing a stainless steel sink after each use will help to keep the surface free of residue. After rinsing, thorough drying with a clean paper or cloth towel is suggested to make sure water spots don't pop up. No matter how clean the water is, it will most likely contain dissolved minerals and salts that can potentially dull the appearance of the sink. If water spots do appear, however, the use of a mild-abrasive cleaner and plenty of rinsing will take care of the issue.
For a more natural route of upkeep, MR Direct suggests using a thin layer of olive oil to remove streaks and add shine and white vinegar to combat nasty hard water stains and fingerprints. For a sink with streaks and smudges, apply a few drops of olive oil to the problem areas and spread using a paper towel. Make sure to remove the layer of oil after a few minutes with a clean cloth and plenty of running water. This will take away unsightly streaks and help add shine to a dull sink. For heavily spotted stainless steel surfaces, the use of undiluted white vinegar can be just as affective as a store-bought cleaner. To use this method, pour a generous amount of white vinegar onto a soft cloth and rub over the spots and surrounding areas. Rinse with water and dry completely.
Since stainless steel i s made from natural materials, corrosion may be possible, but unlikely. Damage from corrosion is a serious threat to a sink, but is preventable with a few easy tips from MR Direct. Avoiding the use of construction chemicals, solvents and acids, which can damage stainless steel, is the number one way to prevent corrosion damage. If these harmful materials come in contact with the sink, the best way to stop future damage is to rinse and dry immediately.
The final helpful tip that MR Direct offers is how to keep a stainless steel sink as free from scratches as possible. They understand that scratches are inevitable in any home, but offer a few ways to dodge them on a stainless steel kitchen sink. The use of a mild-abrasive cleaner can be scrubbed on the sink in the direction of the grain for small, fine scratches. For larger, deeper scratches, scour the sink with an abrasive anti-scratch product with a nylon cleaning pad. Only a small amount is needed, as the surface may become sensitive to the chemicals. To avoid using chemicals to scratch-proof a sink, MR Direct provides protective stainless steel sink grids that are custom made for each sink model. These grids sit inside the sink bowl on raised rubber feet to prevent objects within the sink from touching and damaging the sink surface.
All of these tips are available inside the Information Center on the MR Direct website. Cleaning care for alternate sink materials such as bronze, porcelain and glass, as well as other helpful hints, are also available to the public through the Information Center.