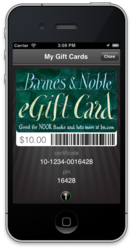 "We've built on the success of Starbucks' mobile payment and rewards experience," said Bob Burroughs, VP Product Marketing of Sionic Mobile
Atlanta, GA (PRWEB) March 27, 2013
Sionic Mobile today announced the release of its free ION Rewards app for consumers wanting to get paid for paying with their phones at favorite places like Barnes & Noble, Adidas, Lands End, The Limited and many other national retailers and restaurants.
Advancing the simple, digital gift card & rewards experience made famous by Starbucks, ION Rewards presents mobile gift cards for exact checkout amounts and pays its users at least 1% of the purchase total in IONs instantly. Unlike Starbucks' proprietary rewards, however, IONs are a "life currency" and may be earned and spent like cash at any merchant throughout the ION retail network. Plus, with ION Rewards, there is no need to preload and reload digital gift cards, as customers pay only the checkout amount in real time.
ION Rewards app users also earn IONs by purchasing merchant-advertised items, connecting with friends and signing up their favorite places. IONs add up fast and 1,000 IONs equals US $1.00.
"We've built on the success of Starbucks' mobile payment and rewards experience," said Bob Burroughs, VP Product Marketing of Sionic Mobile, "by making it even easier for consumers to pay with their phones and earn IONs for shopping and dining at several thousand of their other favorite brands' locations."
Visit http://www.ionRewards.com for complete program details and to see a comprehensive list of national brand locations where ION users get paid to pay with their phones.
###
About ION
ION is a fully digital mCommerce platform connecting merchants with nearby consumers via mobile ads, payments and rewards. ION Rewards™ pays consumers to pay with their phones and rewards them for buying merchant-advertised items, connecting with friends and referring their favorite places. ION Loyalty® increases high-margin sales for neighborhood food & beverage, retail and service providers. The apps connect securely in the cloud for immediate and effortless checkouts. Both apps are free and support iOS and most Android devices.