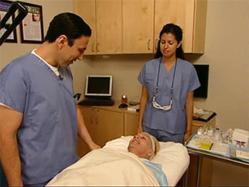 Los Angeles, California (PRWEB) March 25, 2013
According to a March 17, 2013 CBS News article, the eyelash treatment Latisse is now being explored as a remedy for hair loss. Latisse is a prescription drug that was originally created as to treat glaucoma. However, researchers and doctors found that a side effect of this medication was thicker, darker, and longer eyelashes, prompting testing as a possible solution for baldness. (Go to: goo.gl/RGlIF).
"It might not be as important as a cure for cancer," says Dr. Simon Ourian, Medical Director of Epione Beverly Hills, "but an effective treatment for baldness is going to make a lot of money for somebody. And I specifically used the word 'treatment' and not 'cure' because each of the drugs in question is not a one-time treatment but will need to be taken for as long as the user wants to keep their hair."
Latisse has shown to be effective in stimulating hair growth as long as the hair follicle is still alive and in the hair production stage. The prostate drug Avodart and even Vitamin D have also been found to have properties that stimulate hair growth. According to the article, researchers reported after six months of testing that men taking Avodart saw an increase of an average of 96 hairs per one-inch diameter of scalp examined. It is expected that Avodart will soon be marketed specifically to combat hair loss.
Until recently, doctors did not know what caused male pattern baldness. Researchers and doctors discovered that too much of a hormone called Prostaglandin D2 has the ability to shut down hair follicles, thus preventing hair from growing.
"As the article states, it's not unusual when a drug developed for one purpose is found to have other helpful benefits," says Dr. Ourian. "I've worked with Latisse for a long time and I'm not at all surprised that researchers are working to see if it can be effectively used to treat baldness."
Dr. Ourian has been a pioneer in laser technology and non-invasive aesthetic procedures including Restylane, Juvéderm, Radiesse and Sculptra. These treatments are used for the correction or reversal of a variety of conditions such as acne, acne scars, skin discoloration, wrinkles, stretch marks, varicose veins, cellulite, and others. More information about hair loss can be found on Epione's website.