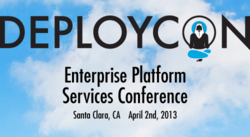 Suresh Sambandam is featured in this session because OrangeScape provides Visual PaaS, an abstraction for enterprise IT developers to build B2B apps and also KiSSFLOW a workflow-as-a-service platform for business users
Mountain View, CA (PRWEB) March 25, 2013
Rishidot Research announced the 2013 speaker lineup for DeployCon 2013, the industry's first conference focused on Platform Services. DeployCon 2013, held this year in conjunction with Cloud Connect on April 2 at the Santa Clara Convention Center in California. DeployCon will bring together CIOs, enterprise IT managers and developers to discuss how organizations can better leverage Platform Services to enable IT transformation to Agile IT.
Krishnan Subramanian, Founder and Principal Analyst, Rishidot Research said "The diverse needs of enterprise customers requires platform abstraction at various levels focussing on DevOps to NoOps to BizOps. This is the reason we have a Fireside Chat at Deploycon 2013 titled 'Platform Abstraction: Operations to Developers to Business Users' moderated by Alex Williams of TechCrunch with Jared Wray CTO of Tier 3 and Suresh Sambandam CEO of OrangeScape. Suresh Sambandam is featured in this session because OrangeScape provides Visual PaaS, an abstraction for enterprise IT developers to build B2B apps and also KiSSFLOW a workflow-as-a-service platform for business users"
OrangeScape is offering complimentary VIP Passes for this unique and only conference focused on Enterprise Platform Services. Only 10 passes are left and will be issued on first come first basis. Register here!
About OrangeScape
OrangeScape is a leading Platform-as-a-Service (PaaS) company and one of 10 companies featured in the platform-as-a-service research reports of Gartner and Forrester. OrangeScape's platform enables the creation of SaaS, Public Cloud and Private Cloud based business applications for lSVs and large enterprises. OrangeScape platform has been used to develop applications nearly 100 different categories like sophisticated loan origination, vendor collaboration suite, ERP and simple apps like timesheet, expense management and the likes. OrangeScape's customers include United Biscuits, AstraZeneca™; Citi®; Pfizer™, Fullerton and many more. OrangeScape has offices and partners in USA, UK, Europe and India. Most recently, Google announced OrangeScape as a prime technology partner for Google App Engine
OrangeScape has two offerings:
1) OrangeScape Visual PaaS targeted for ISV and Enterprise IT developers for creating sophisticated B2B applications. http://www.orangescape.com
2) KiSSFLOW a simple and easy workflow platform for Google Apps customers. http://www.kissflow.com
About Rishitdot Research:
Rishidot Research is a next generation analyst firm focusing on helping
organizations understand the fast- changing technology landscape driven by the
convergence of cloud, social, mobile and big data. Rishidot offers strategic
advice and research reports to help organizations leverage the newer
technologies without causing disruptions to existing processes. For more
information, visit http://www.rishidot.com
About Cloud Connect:
Cloud Connect, produced by UBM Tech, is the defining event of the cloud
computing industry with content-led conferences in the Silicon Valley, Chicago
and Bangalore, India. As both a conference and an exhibition, Cloud Connect's
goal is to chart the course of cloud computing's development by bringing together
enterprise IT professionals, developers, infrastructure and service providers and
cloud computing innovators. UBM Tech has produced cloud events that define
and frame cloud computing discussions since June 2008, including Cloud
Summit Executive and Enterprise Cloud Summit at Interop. Cloud Connect is a
one-of-a-kind event that encompasses the entire cloud computing ecosystem.
For more information visit: http://www.cloudconnectevent.com.