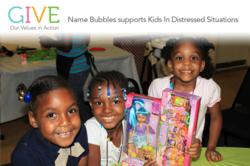 This year, Name Bubbles is pleased to announce that it has upped the ante; we have committed up to $25,000 dollars to K.I.D.S. through our sales of personalized clothing labels.
Clifton Park, NY (PRWEB) March 26, 2013
Name Bubbles, an award-winning kids labels manufacturer and e-commerce website, is pleased to announce Kids in Distressed Situations (K.I.D.S.) as its annual non-profit partner for GIVE, Name Bubbles Giving Program.
Name Bubbles created GIVE to provide support and awareness to a selected non-profit organization each calendar year, and has donated more than thirty-four thousand dollars since the program's inception in 2010, as well as raising awareness for their particular cause. "Our GIVE Program is one of our core values and one that means a great deal to me, "says Michelle Brandriss, Founder and CEO of Name Bubbles. "This year, Name Bubbles is pleased to announce that it has upped the ante; we have committed up to $25,000 dollars to K.I.D.S. through our sales of personalized clothing labels. We've included three laundry safe label styles in the program, they are some of our most popular personalized name labels and $1 dollar of every purchase will be donated to K.I.D.S."
K.I.D.S. was selected because of the shared focus on children and their relevance in today's climatic uncertainty. "While researching non-profit organizations for our 2013 Giving Program, it became clear that so many families in the United States and around the world were being impacted by natural disasters," says Brandriss. "I knew that I wanted to find a group that focused on helping children feel secure and comforted after being impacted by so much destruction. After hearing that K.I.D.S. was able to distribute over $15 million dollars for disaster relief after Hurricane Sandy and other natural disasters across the country within the last year, I knew we'd found the right GIVE partner."
K.I.D.S. distributes $10 dollars of new merchandise with every $1 dollar that is donated. By working with companies that donate books, clothing, diapers, toys, and shoes, K.I.D.S. ensures that the merchandise finds its way to existing programs that help educate and improve the lives of children in the United States and around the world. In 2012, K.I.D.S. distributed $112 million worth of brand-new goods around the world and touched the lives of 5.2 million children, helping them build hope, self-esteem and an opportunity to succeed.
"From the beginning of our collaboration with Name Bubbles, we have been impressed with their products, their business philosophy, and their passion for the greater good. We are grateful that they chose K.I.D.S. to help manage and bring attention to their corporate philanthropy initiatives. As more people find out about the unique place that Name Bubbles products can have in their everyday lives, more children can be helped around the world. That's what a great corporate / charity partnership is supposed to look like," says Chris Blake, Executive Director of K.I.D.S.
To reach our goal of $25,000 for 2013, customers can personalize and purchase Name Bubbles Laundry Safe Clothing Labels on NameBubbles.com and Name Bubbles will donate $1 of every product purchased to K.I.D.S.
About Name Bubbles
Winner of the prestigious 2012 SheKnows Parenting Awards for Best School Supply and the renowned iParenting Award for Outstanding Products, Name Bubbles are press-and-stick name labels designed to help busy families keep track of toys, clothing, hand-held electronics, baby bottles, school uniforms, sports equipment, lunch boxes, backpacks and much more. Name Bubbles waterproof labels are dishwasher, laundry, and microwave safe. Custom packs are available for camp labels, school labels, daycare labels, sports labels and write on message labels – the sticker label you customize again and again. They can all be personalized and purchased directly on the Name Bubbles website at http://www.NameBubbles.com.
About K.I.D.S.
Kids in Distressed Situations was founded in 1985 with the mission of providing new kid-essentials to children and teens who have been impacted by poverty and tragedy. Since its inception, K.I.D.S has provided almost 1 billion dollars to help nearly 70 million children. With a network of nearly 2,000 local partner agencies located in all 50 states and an overhead of less than 3%, K.I.D.S. is able to effectively and efficiently deliver products directly to children when and where they need it. As a result, the charity has been recognized by Consumers Digest as #1 in the Humanitarian Category in their 2012 Tri-Annual Edition of Top Charities for its spending efficiency and Forbes Magazine ranks the charity 6th in fundraising efficiency. The charity continues to be recognized by Charity Navigator with its highest four star rating. The Chronicle of Philanthropy places K.I.D.S. among the top 2 percent of non-profits in the U.S. K.I.D.S. receives both product and financial donations directly from companies, foundations and individuals with 97% of the value of all donations going directly to the children and teens in need. To find out more about Kids in Distressed Situations, go to http://www.kidsdonations.com