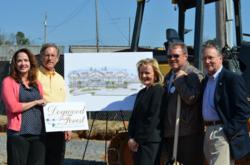 We are ecstatic about bringing a Dogwood Forest community to Acworth especially considering this has been our vision for some time.
Acworth, GA (PRWEB) March 26, 2013
With a symbolic toss of Georgia red clay, Trinity Lifestyles Management, a Georgia based senior living management company, affiliate partners, and Acworth's city mayor, marked on March 15 the start of construction with a groundbreaking ceremony for its new $22 million Dogwood Forest senior living community located in historic Acworth.
With shovels in hand, Acworth Mayor Tommy Allegood opened the ceremony with prayer and remarks followed by closing remarks from Al Holbrook, chairman and CEO of Solomon Senior Living, LLC and Trinity Lifestyles Management, LLC . Solomon and Trinity will develop and operate the community, respectively. Trinity was joined by several city officials, community members, and project partners including Dan Needle of Dan Needle Development, for the ceremony.
"We are ecstatic about bringing a Dogwood Forest community to Acworth especially considering this has been our vision for some time," Holbrook said. "The people in this community have been very welcoming and our hope is that our caring and innovative approach to senior care would be considered an asset to this community for years to come."
The site of the community is located at 4461 South Main Street, the southern edge of historic Downtown Acworth. Once completed, Dogwood Forest will total 87,000-square- feet with 47 assisted living units and two neighborhoods composed of 22 units for early Alzheimer's and 24 units for more specialized memory care needs.
"This groundbreaking marks the beginning of something great for us as a company as well as the beginning of a new relationship with the Acworth community," Holbrook said. "We know that our approach to building and operating senior living communities with positive environments and programs will have a strong impact on the community and seniors living at Dogwood Forest of Acworth."
Solomon Development, along with Needle Development, has future plans for a mixed use project in four acres of undeveloped land adjacent to the site.
"We are exploring options for the acreage, but would love to offer a live, work, play environment for the residents of Dogwood Forest and the whole Acworth community to enjoy," Holbrook said. "We are privileged to have opportunities to serve the needs of the citizens of Acworth and northwest Georgia."
In December 2012, CNL Healthcare Trust, a real estate investment offering focused on senior housing and healthcare real estate, reached an agreement to invest in the project. Solomon Senior Holdings, LLC agreed to serve as developer, a long term deal was reached for its affiliate management group, Trinity Lifestyles Management, to operate the community. CNL will own the property. The community is expected to open early 2014.
Trinity Lifestyles Management is a family-owned business with a mission of giving Georgia's seniors a lifestyle of personal wellness and balances mental, physical and emotional health. They are proud to begin construction of Dogwood Forest of Acworth. The organization can be contacted at (678) 566-0034.