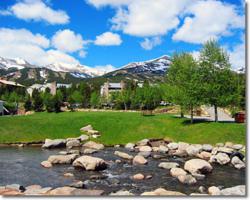 Sharpen your skills and advance your knowledge. Find inspiration among your peers and amidst the mountains, and remind yourself just how important it is to combine your profession with your passion.
Salt Lake City Utah (PRWEB) March 27, 2013
Three decades old and still going strong! The WMS is celebrating its 30th anniversary during its annual conference in Breckenridge, Colorado, July 12-17.
The 30th Anniversary Wilderness Medicine Conference and Annual Meeting is designed to appeal to austere medicine enthusiasts—novices to veterans—of diverse medical backgrounds. The WMS will present a first-of-its-kind pre-conference dedicated to the Wilderness Athlete. Additional pre-conference programs include Advanced Wilderness Life Support certification and a continuation of the Diploma in Mountain Medicine (DiMM) program.
The conference features a wide variety of lectures, small group sessions, workshops, research sessions, and social activities to celebrate the 30th anniversary of the WMS. Coursework will highlight wilderness medicine fundamentals while also focusing on combat care, cave rescue, and the state-of-the-art in wilderness education and research.
Their new summer venue of Breckenridge, Colorado offers world class hiking, mountain-biking and outdoor activities in a classic summer mountain setting.
Online registration is available on the Wilderness Medical Society's website wms.org.
The Wilderness Medical Society (WMS), a 501(c)3 organization, is the world's leading organization devoted to wilderness medical challenges. Wilderness medicine topics include expedition and disaster medicine, dive medicine, search and rescue, altitude illness, cold- and heat-related illness, wilderness trauma, submersion injuries, envenomation, and wild animal attacks.