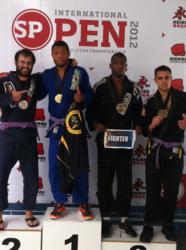 "I was able to set the tone in my division and implement my game plan in my weight class."

- Timothy Spriggs
(PRWEB) March 25, 2013
This past weekend, Timothy-Michael Spriggs won gold at the 2013 Pan American Championships hosted by the International Brazilian Jiu-Jitsu Federation (IBJJF) in Irvine, California.
The Pan Jiu-Jitsu Championship is the second tournament in a series of four of the most distinguished Brazilian Jiu-Jitsu competitions in the world. The Pan Jiu-Jitsu Championship which is run by the International Brazilian Jiu-Jitsu Federation (IBJJF), is known for attracting some of the toughest competition in Brazilian Jiu-Jitsu. Crazy 88 Medal Chaser Timmy Spriggs started off the year victorious, winning first place at the European Open and adding another milestone to his resume for the year.
The 22 year-old Spriggs competed in the Heavyweight division where he was to face off against two other world champions. Timmy won five matches on his way to the Gold in the Purple Belt Heavyweight division. Unfortunately, in the open division he made a minor mistake which caused him to lose before making the medal rounds. Timothy commented, "I was able to set the tone in my division and implement my game plan in my weight class. I had the privilege to fight some of the toughest guys at my level. I was able to see spots I needed to work on when the open division started and as soon as I get back to Crazy 88 next week I will work on fixing these problems and come back stronger."
Spriggs will be competing at the Brazilian Nationals held in Sao Paulo, Brazil before finishing the season off at the World Championship. Timothy-Michael Spriggs trains out of Crazy 88 Brazilian Jiu-Jitsu, a Mixed Martial Arts gym located in Howard County, Maryland. For more information visit the site at http://www.baltimoremixedmartialarts.com.