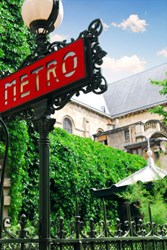 I've watched tourists roll their suitcases down the Rue Saint-Louis en l'Île, stopping in each charming hotel only to be turned away — Darla Worden
Denver, CO (PRWEB) March 27, 2013
Recently named a top travel destination for 2013, Paris, France, remains one of the most popular tourist spots in the world, resulting in long lines at many of its attractions, especially for popular summer Paris travel. "Despite the crowds, there's no better place to go in the summer than the City of Light," says Darla Worden, founder of Left Bank Writers Retreat in Paris. Worden spends a month in the city each summer, including hosting her June 16 – 21 Paris writing workshop, where she spends afternoons showing her writer guests around favorite Parisian literary haunts and landmarks. Worden says a few simple tips can help Paris travelers reduce the time spent in line with other tourists for more time to enjoy the city's famous sights:
Make hotel reservations now: Call it the grass is always greener syndrome, but some tourists arrive in Paris without a hotel reservation because they want to "see" a property before they commit. Good luck with that, says Left Bank Writers Retreat's Darla Worden: "I've watched tourists roll their suitcases down the Rue Saint-Louis en l'Île, stopping in each charming hotel to inquire about a room, only to be turned away." Paris rooms book months in advance. "If you don't already have a hotel room, book now or you may find yourself in the Dante's Circle of Hell that involves traipsing from hotel to hotel through the streets of Paris while travelers who planned ahead happily sip wine at a local café," she adds.
Buy tickets in advance to skip the lines: Many attractions sell tickets online in advance, an easy way to beat the crowds. "One of my favorites is the Paris Pass," Worden says. "It's accepted at most major Paris museums and allows visitors to skip the ticket line and in many cases enter through a special door for pass holders – and saving potentially hours of standing in line."
Eat lunch early to get a table: Parisians eat lunch later, with restaurants starting to get busy around 12:30 or 1:00 p.m. "If you're willing to eat earlier, you may find yourself eating with other tourists, but at least you'll be able to get a table," says Worden, who notes that many restaurants don' t accept reservations except for groups.
Buy a carnet (pronounced car-nay) of Metro tickets: The carnet is a discounted pack of 10 Metro tickets; purchase them in Metro stations, at the airport, train stations or some tobacconists (look for the RATP – Paris Transport Authority – sign). "Buying a carnet is essential if you plan to use the Metro to get around," says Worden. "You avoid standing in line to buy tickets for each Metro ride, you'll save money, and you'll always have a ticket in your pocket when you need it."
Let someone else take care of the details: Any number of summer Paris tours, classes and retreats can be purchased as packages that take care of travel details, allowing visitors to relax and enjoy themselves. Restaurant tours arrange reservations at multiple restaurants and museum tours arrange transportation and tickets in advance, for instance. At the Left Bank Writers Retreat in Paris, June 16 – 21, 2013, writers show up each morning to write in one of the beautiful parks of Paris and organizers then take them around Paris, including lunch, for the afternoon. All transportation, reservations, and tickets are pre-arranged so the only decision for guests is "Will you have the salade paysanne or the pot au feu?" or, more importantly, red or white?
The cost of the six-day Left Bank Writers Retreat in Paris is $1,999 and includes morning writing sessions, coaching and one-on-one time with the instructor for a maximum of eight writers, as well as lunch each day, admission to museums and area sights, an excursion to Montmartre, a picnic on the banks of the Seine and a literary tour visiting many of the sites featured in the Woody Allen movie "Midnight in Paris."
Now in its fifth year, the retreat takes place on the historic "Île Saint-Louis" in the heart of Paris. Writers arrange their own lodging and transportation to Paris, and can reserve a spot in the retreat with a $500 deposit.
Left Bank Writers Retreat facilitator and host Darla Worden is an author, writer and public relations professional who lives in Jackson, Wyo., and Denver, Colo. Worden, who was recently interviewed in "Insider Perks" about her love of travel, has written widely for magazines, and has published books, including "The Rusty Parrot Cookbook" (Gibbs Smith, Publisher, 2009). A bona fide Francophile who has spent time living and working in Paris, she also teaches a writing course, "A Left Bank Literary Excursion," in the Enrichment Program of Denver University and is the author of the popular blog Frenchophile. She is currently working on a book about Hemingway's Paris.
Company Information: The 2013 Left Bank Writers Retreat is slated for June 16 – 21 in Paris, France. Hosted by writer Darla Worden, the six-day summer writer's workshop includes salon-style morning writing sessions, coaching and one-on-one time with the instructor for a maximum of eight writers, as well as lunch and daily sightseeing adventures. For additional information, visit http://www.leftbankwriters.com.
Media Contact: Darla Worden, WordenGroup Public Relations, darla(at)wordenpr(dot)com, 307-734-5335