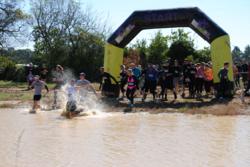 99.9% of all people who want a day to be a kid again will finish, and 100% will have their desire to find out what mud running is all about fully satisfied
Shreveport, LA (PRWEB) March 26, 2013
Mud Fears Me, an obstacle-filled 5K "mud run" which held its first Shreveport-Bossier event in October 2012, will return to Shreveport's High Lifter Off-Road Park on Saturday, April 13. The first wave of runners will depart at 9 a.m. Registration is now open at http://www.mudfearsme.com. Registration is $85 for adults, and includes race admission, one free beer (for participants ages 21 and up), participant t-shirt, custom finisher medal and live music. Registration closes at midnight on Wednesday, April 10. A $5 donation to the Max Cure Foundation, benefitting pediatric cancer research, will be added to each registration.
Mud Fears Me events are a fun, 3.1 mile obstacle course race featuring more than 20 obstacles designed to test participants' all-around strength, stamina, mental grit and camaraderie. From beginning trail racers and mud run participants to elite athletes, all skill levels are welcome to test themselves in the mud. The Little Mud Monsters course, designed for children ages 4-12, is a half-mile course featuring mud obstacles designed with younger participants in mind. Little Mud Monsters registration is $35.
"99.9% of all people who want a day to be a kid again will finish, and 100% will have their desire to find out what mud running is all about fully satisfied," said Mud Fears Me CEO and founder Carla Sizemore.
Although the Mud Fears Me event is among the newest series added to the booming obstacle course industry, the Mud Fears Me staff and construction team are not newcomers. The Mud Fears Me production team has more than 30 years' construction background, having produced more than 20 races built to challenge hundreds of thousands of participants worldwide.
For more information on the April 13 Mud Fears Me obstacle race in Shreveport-Bossier, visit http://www.mudfearsme.com. For more information on things to see and do in Shreveport-Bossier: Louisiana's Other Side, visit http://www.shreveport-bossier.org.
High-quality images of recent Mud Fears Me obstacle course races are available for promotional usage. To request images, contact Carla(at)mudfearsme(dot)com.